Dozens killed in suicide blasts at Justice Palace & restaurant in Damascus (GRAPHIC VIDEO)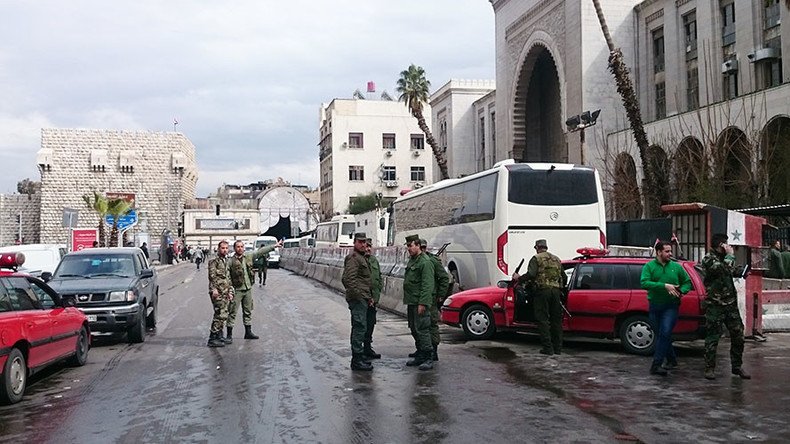 A second bomb has struck Damascus just hours after a reported suicide attack at the Justice Palace in al-Hamidiyeh, Damascus, which killed at least 31 people.
State-run Syrian Arab News Agency (SANA) reports that a second suicide bomber set off an explosive device inside a restaurant in the al-Rabweh area, killing several people.
Sana reports the attacker was being chased by security agents when he ran into the restaurant and detonated a suicide vest.
Hours before, a suicide bomber detonated an explosive device inside the main building of the Justice Palace, according to reports.
WARNING: The following video contains graphic content. Viewer discretion advised.
The attacker at the Justice Palace is said to have detonated his explosive device after police attempted to prevent him from entering the building, Ahmed al-Sayyid, a senior state legal official told al-Ikhbariya TV, according to Reuters.
A Damascus Police source told SANA after the first attack that at least 25 people were killed. Local reports indicates the number of fatalities now exceeds 30.
SANA's reporter: Terrorists detonate IED at the Justice Palace in al-Hamidiyeh area in #Damascus

— SANAEnglishOfficial (@SANAEnOfficial) March 15, 2017
Government authorities ordered an evacuation of the area surrounding the Justice Palace over fears of further attacks, Almasdar News reports. The Justice Palace is located close to the famous Hamidiyeh market in Damascus.
"We were terrified because the sound of the explosion was enormous," an unidentified lawyer, who was in the building during the attack, told AFP. "We took refuge in the library which is on a higher floor. It was a bloody scene."
The attacks come on the sixth anniversary of the protests which led to the Syrian conflict and takes to three the number of bombings in the Syrian capital in five days.
Twin bomb attacks killed at least 40 in Damascus on Saturday. An Al Qaeda-linked terrorist alliance, Levant Liberation Committee, also known as Hayat Tahrir al Sham, claimed responsibility for the blasts.
READ MORE: Dozens killed in twin bombings near Shiite cemetery in Damascus
The latest attacks come as talks on Syria's future take place in Astana, Kazakhstan. Rebel representatives did not attend the two-day summit.
You can share this story on social media: