Death & destruction: Learn more about liberation of Mosul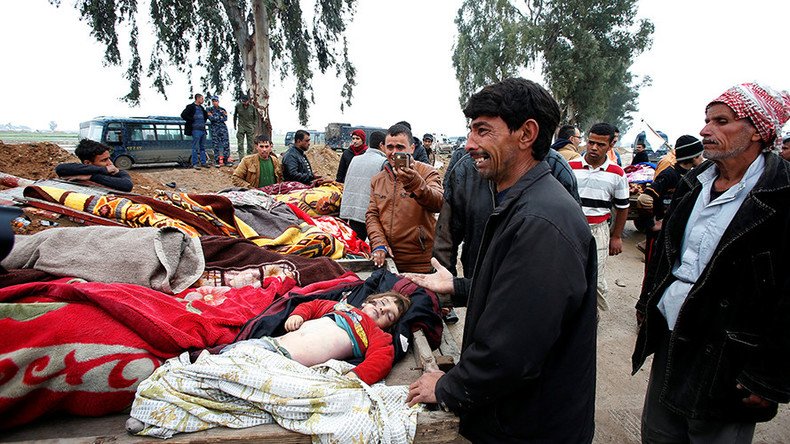 It's been months since the Mosul operation began, and – unlike in the coverage of the liberation of Aleppo – Western media have lauded it. But RT has been on the ground in Mosul and discovered more to the story: civilian deaths and damage caused by the US-led coalition's strikes.
10:40 GMT

A Ruptly crew captured unique 360-degree footage of a Mosul hospital retaken from Islamic State. Though damaged in house-to-house fighting, the facility still seems relatively untouched in comparison with the lifeless burnt-out vicinity.

12:01 GMT

A photo tweeted by the UN Refugee Agency shows a nine-year-old girl from west Mosul clutching her doll.

"I couldn't leave without her," she said, according to the agency.

11:44 GMT

Iraq's immigration minister, Jassim Mohammed, says the number of displaced people from both sides of Mosul has reached 355,000 since the start of the campaign, Reuters reported.

A total of 180,000 people have fled west Mosul, AFP cited the Iraqi government as saying.

11:31 GMT

Many civilians fleeing Mosul are having difficulty finding shelter at camps, arriving to find there is no room. They are then being forced to get back onto buses or hire taxis to reach other areas, Reuters reported.

11:27 GMT

The Iraqi army clashed with Islamic State (IS, formerly ISIS/ISIL) militants in the area of Mosul's al-Nuri mosque, also known as the Great Mosque.

11:23 GMT

A five-year-old girl was the sole survivor of an airstrike on her home in Mosul's Jadeda neighborhood. She is now fighting for her life in the field hospital of Iraq Special Operations Forces.

Warning: GRAPHIC VIDEO

11:21 GMT

RT's Ruptly crew managed to capture 360-degree footage of an unexploded bomb-laden vehicle reinforced with improvised armor plates that seems to have miraculously survived an airstrike on a house in Mosul.