Somali pirates strike for first time in 5 years with freighter hijacking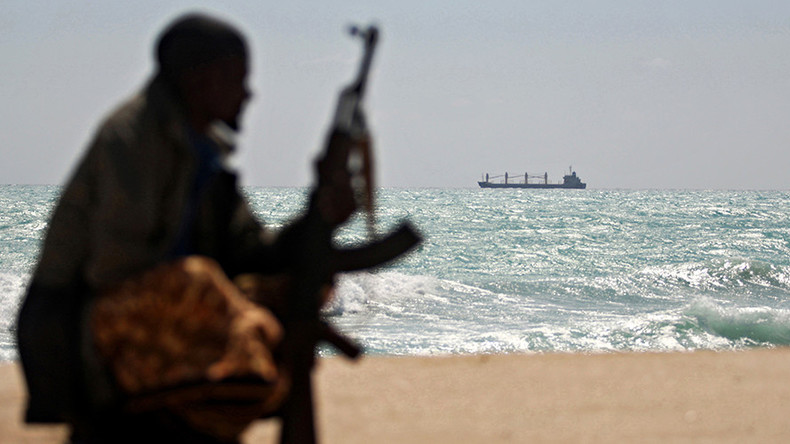 Pirates have hijacked an oil tanker off the coast of Somalia, the first commercial vessel hijacking since 2012. Somali officials say more than two dozen pirates have boarded a Sri Lankan flagged freighter off the northern coast.
'Aris 13' sent out a distress call Monday before its tracking system was turned off and its course was set for the port town of Alula. Pirates in the town confirmed they were expecting the ship, Reuters reported.
Sri Lanka's Ministry of Foreign Affairs released a statement on the hijack, stating that is "taking action to verify the alleged incident, and initial enquiries have revealed that while the vessel involved is not registered under a Sri Lankan flag, it has an eight-member Sri Lankan crew."
The ministry said it's in touch with shipping agents and authorities to "ensure the safety and welfare of the Sri Lankan crew."
An EU Naval Force spokesperson Flt. Lt. Louise Tagg confirmed the incident, adding that an investigation was underway. EU Navfor aircraft were flying overhead to monitor and track the ship's route.
Salad Nur, an elder from Putland, Somalia, told the Associated Press that local fishermen and former pirates were behind the hijack. "They have been sailing through the ocean in search for a foreign ship to hijack since yesterday morning and found this ship and boarded it," he said. "Foreign fishermen destroyed their livelihoods and deprived them of proper fishing."
READ MORE: Sea pirates of the 21st century are gangs run by criminal masterminds – hostage negotiator
The ship was carrying fuel from Djibouti to the Somali capital of Mogadishu and is owned by Panama company Armi Shipping and managed by Aurora Ship Management in the United Arab Emirates.
Pirate hijacks are usually carried out for ransom, but no ransom request has yet been made.
Piracy in the area has decreased from its peak in 2011, thanks to increased patrols and security along the trade route.
You can share this story on social media: