'If & why?' Beijing wants to hear from Tokyo on sending largest warship to disputed S. China Sea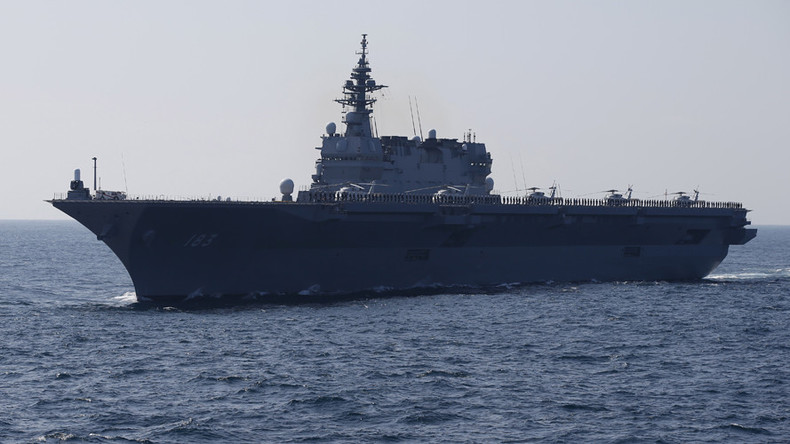 China is waiting to hear official word from Japan on why it is reportedly planning to send its largest warship on a three-month tour in the South China Sea. Beijing claims most of the waterway as its own, despite competing claims from other countries.
Chinese Foreign Ministry spokeswoman Hua Chunying told a news briefing on Tuesday that Beijing is unsure whether the helicopter carrier 'Izumo' is merely passing through to visit Southeast Asian countries, or if there is another aim.
"We have not yet heard what Japan says officially," Hua said, as quoted by Reuters.
"If it's only a normal visit, going to several countries, and passing normally through the South China Sea, then we've got no objections, and we hope this kind of normal exchange between relevant countries can play a role promoting regional peace and stability," she added.
"But if going to the South China Sea has different intentions, then that's a different matter."
She went on to accuse Japan of recently stirring trouble on the South China Sea issue, and said that Beijing hopes to play a constructive role in peace and stability in the region.
China lays claim to almost all of the resource-rich South China Sea, despite competing claims from Vietnam, the Philippines Taiwan, Malaysia and Brunei.
Although Japan does not have any claim to the waters, it has a separate maritime dispute with Beijing in the East China Sea.
Hua's comments come just one day after three sources told Reuters that Japan plans to dispatch the 'Izumo' in May, marking Tokyo's biggest show of naval force since World War II.
The ship will reportedly make stops in Singapore, Indonesia, the Philippines and Sri Lanka before joining the Malabar joint naval exercise with Indian and US naval vessels in the Indian Ocean in July.
'Izumo', which measures 249 meters (816 feet) long, is as large as Japan's World War II-era carriers and can operate up to nine helicopters. Its primary mission is anti-submarine warfare.
Japan has classified the warship as a destroyer, as the country's pacifist constitution forbids the acquisition of offensive weapons. However, the vessel allows Japan to project military power well beyond its territory.