Catalan ex-president given 2-year public office ban for independence referendum
Published time: 13 Mar, 2017 17:03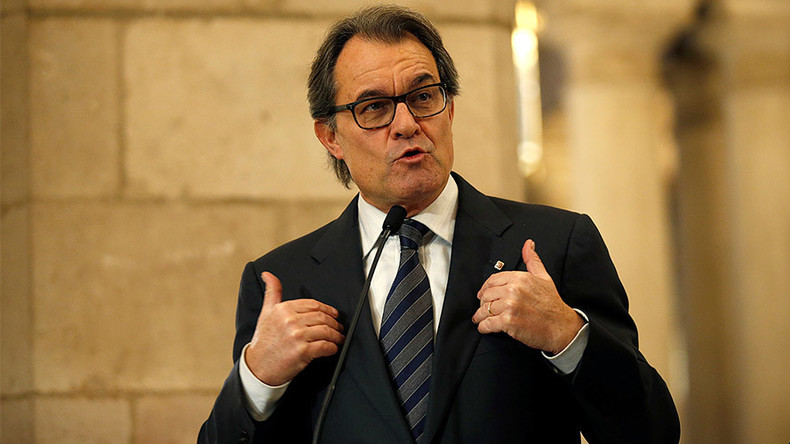 The former president of the Spanish region of Catalonia, Artur Mas, was barred from public office for two years on Monday for staging an informal referendum on secession from Spain back in 2014.
Mas, whose official position was president of the Generalitat of Catalonia, was in charge of Spain's wealthiest region in 2010-16. He has now been was found guilty of "disobedience" by the Catalonian Superior Court of Justice and fined €36,500 (US$39,000).
His closest associates in staging the plebiscite, former Catalan Vice-President Joana Ortega and former Education Minister Irene Rigau, received 21-month and 18-month bans from public office respectively.
The prosecutors were pushing for a 10-year disqualification for Mas and nine-year bans for the two ministers.
During the trial, the Catalan ex-leader claimed that by staging the vote on November 9, 2014, he had "no intention of committing any crime or of disobeying anyone."
"Our aim was to rise to the challenge and promote participation by all possible means," he said in February.
He also wondered why the Spanish Constitutional Court stopped short of preventing the plebiscite "if this was so obvious that it's a crime."
The independence referendum was staged in Catalonia despite the Constitution Court having ruled it illegal five days earlier.
Back then, 80 percent of the voters supported independence from Madrid, with less than half of the region's 5.4 million population taking part in the referendum.
Large-scale protests took place in the Catalan capital, Barcelona, during the court proceedings, with tens of thousands taking to the streets to support the ex-president and again demand independence.
Monday's verdict is likely to widen the split between Madrid and Catalonia's current pro-independence president, Carles Puigdemont , who took the reins after Mas stepped down last year.
Catalan parliament speaker Carme Forcadell decried the court ruling, tweeting: "All my support to Mas, Ortega and Rigau following this unfair sentence. Democracy should be exercised, not banned."
Puigdemont's government is planning to hold another independence referendum in September, which would be binding this time.
READ MORE: Thousands hit streets in Barcelona to support on-trial former Catalan leader Mas
The new Catalan vote was again outlawed by the Spanish Constitutional Court. However, the pro-independence parties argue that Catalonia, which has its own language and culture, is better off on its own due to contributing much more to Spain than it actually receives in return.
Spanish Prime Minister Mariano Rajoy has stated on numerous occasions that the independence referendum would be a breach of the constitution.
READ MORE: Catalan ex-president to go on trial for holding independence vote
According to media reports, the government in Madrid is even considering stripping Catalonia of what regional autonomy it has, in order to prevent its possible secession.