Unique, uncensored color footage of Stalin's funeral shot by US diplomat unearthed (VIDEO)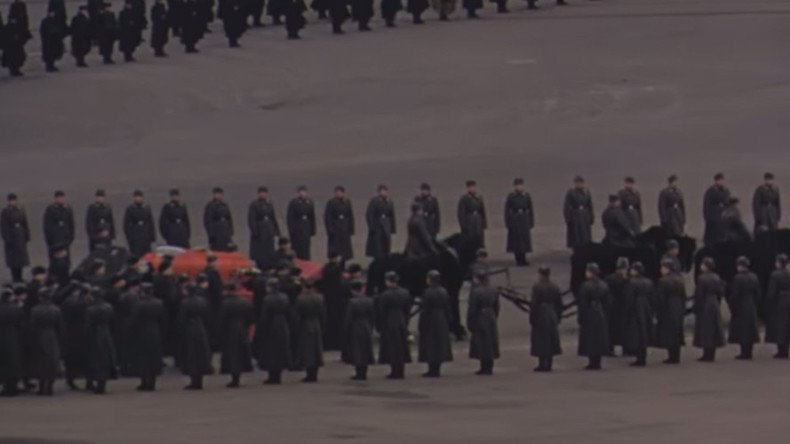 The death of Soviet leader Joseph Stalin was one of the most momentous occasions in Russia's history, but previously only official reels had been available. Now, 64 years later, a new film captured by a US diplomat later expelled for spying, has been published.
Army Major Martin Manhoff was assigned to the USSR in 1952, with the Cold War in the ascendant, and over the next two years took hundreds of pictures, and filmed hours of 16 mm color footage, for reasons that may have been personal, professional or both.
On March 5, 1953, it was announced that 73-year-old Josef Stalin had died of a cerebral hemorrhage. The exact details of his last days as he lay paralyzed and helpless, while none of his subordinates intervened, remain a source of historical controversy.
The death of the man who led Russia through collectivization, the Great Purges, victory in World War II, and the erection of the Iron Curtain was met by many with tears, by others with relief, but by everyone with a sense of uncertainty and trepidation.
Four days of mourning were announced, as Stalin's corpse, decked out in military regalia, lay on public display. Millions attempted to make their way to pay homage, and though no statistics were ever published, rumors emerged that "many hundreds of people" were crushed to death in a crowd, as Moscow was plunged into a public hysteria, both officially encouraged, and somewhat anarchic. A website in memory of those who tragically died during those days was launched in 2013 by the Memorial society.
The funeral itself was scheduled for the morning of March 9, and this is when Manhoff managed to capture his footage. At the time, the US embassy was housed in a building with a perfect view of the Kremlin walls a hundred yards away.
The footage itself, which has been acquired by Radio Free Europe/Radio Liberty, shows dozens of wreaths lined up alongside the route of the procession, with soldiers – over 4,000 were brought in – lined up on either side, shivering in the early spring weather. No civilians were freely allowed to enter the vicinity of Red Square, and the streets around the Kremlin are deserted, save for men in uniforms.
Finally, a horse-drawn carriage appears, moving in a stately manner – contemporary records say that Chopin's funeral march played out of the street loudspeakers. In contrast, a bevy of black limos carrying the Politburo leadership, including future leader Nikita Khruschev, secret police chief Lavrentiy Beria and Foreign Minister Vyacheslav Molotov, arrive hastily.
Armored vehicles and formations of soldiers follow the coffin into Red Square, as a relatively modest parade begins, though Manhoff captures planes flying overhead.
The most revealing moment in the tape happens towards the end, as a police cordon is removed off-camera, and ordinary people are allowed into Red Square, though by this time, Stalin's body was inside the Mausoleum, next to Vladimir Lenin. At first civilians attempt to maintain a seemly walking pace, but many break into what looks like Olympic power-walking, before many break into a full run for a last chance to see the deceased leader.
Another feature that the film misses without sound, is the simultaneous industrial noise – from horns and pipes – unleashed at the end of the funeral by all the country's factories. The poet Evgeniy Yevtushenko, a witness to the funeral, compared it to "the hellish howl of a dying mythical beast."
Despite the pomp, the dismantling of Stalin's cult of personality began shortly after his death, and he spent less than a decade in the Mausoleum, before his reburial in 1961, though the days preceding his funeral have figured in dozens of films, books and poems.
As for Manhoff, in 1954 he and three other diplomats were expelled for "abusing the hospitality shown to them by Russia," with the US press publishing a story of his allegedly leaving "espionage papers" on a train traveling along the Trans-Siberian railway. Whether this was the real reason, and the nature of Manhoff's job, was understandably not disclosed by either side.
His unique historical archive was not handed in or displayed, but languished in a storage box in his Seattle home, even after his death, until being recently discovered by the historian Douglas Smith, who immediately recognized its value and made it public.
You can share this story on social media: