Pope signals support for married priests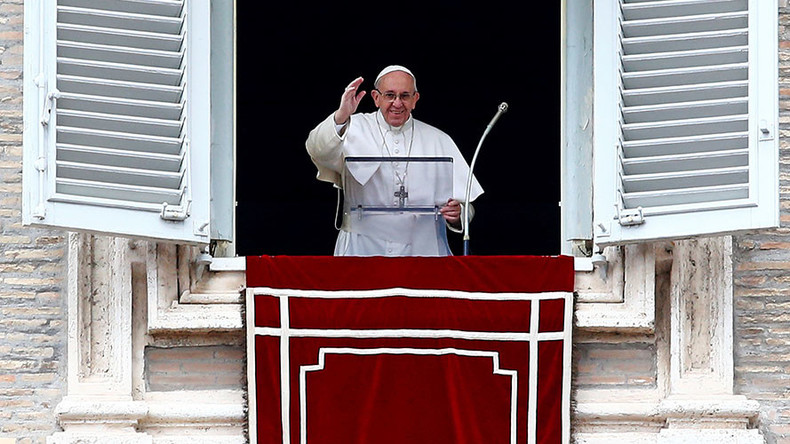 Pope Francis has indicated that he's open to the possibility of ordaining married men as a means of dealing with priest shortages facing remote Catholic communities, according to an interview published in Die Zeit.
The pope stressed that removing the celibacy rule was not the answer to the Catholic Church's priest shortage but expressed a willingness to examine whether married men of proven faith, known as "viri probati," could be ordained.
"We must consider if viri probati is a possibility. Then we must determine what tasks they can perform, for example, in remote communities,''AP quoted the pontiff as saying.
The proposal has been around for decades but came under the spotlight again this year as a result of Pope Francis' apparent positive reaction to the suggestion made by Brazilian clergy.
Brazilian Cardinal CláudioHummes is pushing the request to combat the reported shortfall of 100,000 priests needed in the country.
READ MORE: 'Empty moments': Pope Francis has questioned God's existence, calls himself a 'sinner'
Pope Francis also repeated concerns to the German newspaper, Thursday, around the rise of populism, stating that "populism is evil and ends badly as the past century showed."
Meanwhile, the Vatican press office revealed Friday the pope is donating €100,000 ($106,090) to those living in poverty-stricken circumstances in the war-ravaged Syrian city of Aleppo. It's not clear at this stage who exactly will qualify for the funds or how many people will benefit.
The Vatican administration, known as the Roman Curia, is contributing to the donation which will be made through the Office of Papal Charities and Franciscan missionaries serving the Holy Land, according to Vatican Radio.
This is the department of the Holy See that directs charity to the poor "in the name of the Holy Father," according to the Vatican website.
The pope celebrated mass for Syria in the Italian town of Ariccia Friday, where he had been carrying out Spiritual Exercises, before returning to the Vatican.
Pope Francis has previously condemned the bombing of Aleppo, saying that "those responsible for killing civilians will have to answer to God."
The Vatican press office also confirmed that Pope Francis will visit Colombia in September 2017.
You can share this story on social media: