'Horrific': Animal rights groups slam Norway for killing pregnant whales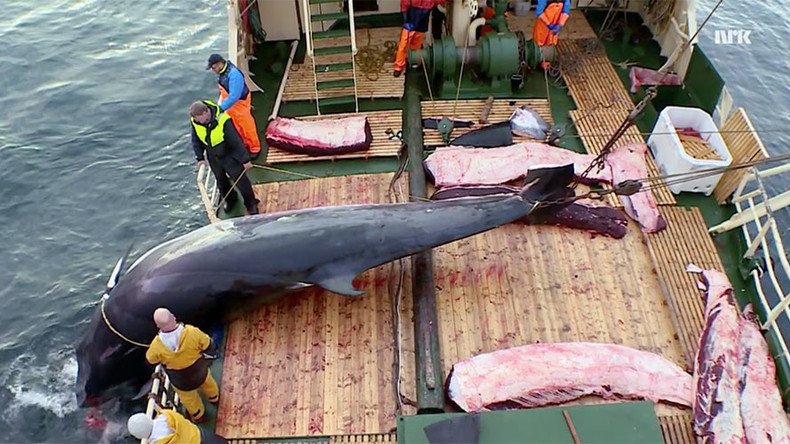 Animal rights groups have slammed Norway for slaughtering pregnant whales, calling it "even more unacceptable" as they carry the next generation of the mammals. The criticism follows a new documentary featuring the murder of female whales carrying a fetus.
The documentary film dubbed 'The Battle of Agony', about the killing of pregnant whales, was released on NRK, a public television network, earlier in March.
"The majority of common minke whales caught in Norway have a fetus in their bellies," the film said.
According to the documentary, which was partly financed by Fisheries Ministry, the quota for minke whales was increased to 999 in 2017. The film adds that in 2016, at least 591 whales were killed.
Northern (or common) minke whales are widespread and seasonally-abundant in the North Atlantic Ocean, WWF says, adding that their catch-by "in fishing nets and traps is a cause for concern."
Hunters and whale experts told NRK that slaughtering of whales, the majority of which are pregnant, is a common thing.
"Lots of slaughtered animals are sent to the slaughterhouse when they are pregnant," a veterinarian specializing in whale hunting, Egil Ole Oen, said.
"We have a professional approach and therefore we don't think about it," added Dag Myklebust, the captain and harpoonist on the whaling ship Kato, adding that the fact that the whales are pregnant" is a sign of good health."
Following the film's release, Greenpeace released a statement saying that Norwegian whaling is "unnecessary and is contrary to international agreements."
"Whale hunting is now even more unacceptable," the head of Greenpeace Norway, Truls Gulowsen, told AFP.
"On the one hand because it's in violation of an international ban, but also because ... it's indefensible from the point of view of the animal's well-being to hunt them during an advanced stage of gestation," he said.
Swiss animal rights group OceanCare also joined the chorus slamming the murder of pregnant whales.
"It is horrific to learn that such a high rate of the whales killed in Norway are female and pregnant," the group said, as cited by AFP. "The whalers are not only killing the current, but also part of the next generation of whales," it added.
"There is an urgent need for an active whale protection policy by European Union Member States to address and stop whaling in European waters," Shifting Values, another environmental group, said on Facebook. Norway is not a member of the European Union, but most of its neighbors are.
Animal Welfare Institute (AWI), one more animal rights group, based in the US, called Norway "the leading killer of whales for commercial purposes."
The group called its followers to write to Kåre R. Aas, Norwegian Ambassador to US "to let him know that you are opposed to his country's continued killing of minke whales."
"Encourage him to support responsible whale watching instead," it added.
In the 1985-1986 season, a moratorium against commercial whaling came into force, under the International Whaling Commission (IWC), as whale populations plummeted toward collapse after decades of industrial-scale whaling.
IWC says that Norway, as well as Iceland, "take whales commercially at present, either under objection to the moratorium decision, or under reservation to it."
According to 2016 report by AWI, OceanCare and ProWildlife, in 2014-2015 Norway has killed more whales than Japan and Iceland combined.
"This is not the 1800s. It is incomprehensible that such a modern nation produces skin creams sourced from an inherently cruel industry," AWI Executive Director Susan Millward said.
You can share this story on social media: