Hundreds of US marines deployed to Syria filmed on the move ahead of Raqqa operation (VIDEO)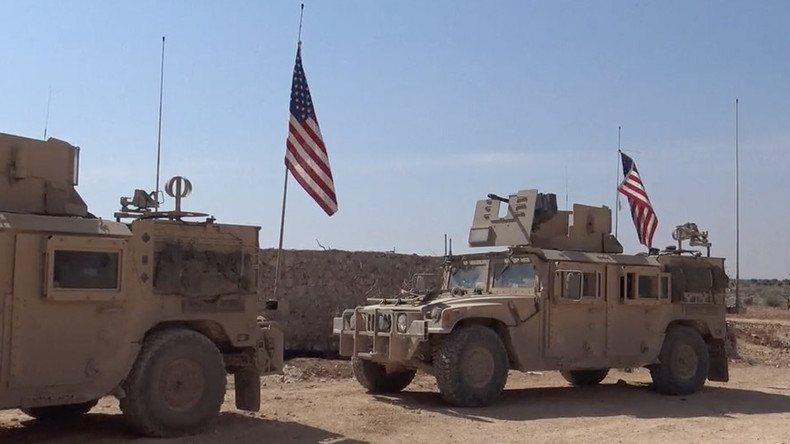 Footage captured by RT's Ruptly agency shows US troops with Humvees and eight-wheeled armored vehicles as hundreds of Marines have been dispatched to northeast Syria in support of the looming operation to retake Raqqa from Islamic State (IS, ISIS/ISIL).
Dozens of heavily armored vehicles flying US flags have been stationed in what appears to be a desolate village, a Ruptly video released Thursday shows. Part of the large deployment, which is tasked with providing artillery support to the US-backed Syrian rebels during the offensive, can be seen forming convoys and moving down the narrow road in large numbers.
A handful of remaining locals, among them children, are waving their hands, greeting the soldiers as they pass them on their way toward the frontline.
The vehicles captured amid the maneuvers are a part of an amphibious task force of the 11th US Marine Expeditionary Unit that recently arrived in Syria to assist the Kurdish-led SDF and Syrian Arab Coalition as they are preparing for the operation to recapture Islamic State's stronghold of Raqqa. The deployment of some 400 US Marines close to the battleground was confirmed by the US-led coalition earlier Thursday after the reports of their ground presence surfaced in US media.
READ MORE: US confirms deployment of hundreds of Marines to Syria to fight ISIS
While the unit is supposed to be playing a crucial role in providing support for the rebels in the coming offensive, in particular in form of artillery fire from M777 Howitzers, capable of striking targets within a range of up to 30 kilometers, the US Air Force say the Marines will not get any closer to the frontline, stressing that the unit has been dispatched to Syria "for a temporary period."
Meanwhile, the SDF believes the Raqqa siege is a matter of "few weeks," the group's spokesman, Tala Silo, told Reuters on Thursday.
US Air Force Colonel John Dorrian, spokesman for the US-led coalition, was optimistic about the timing of the operation, as he stated that the effort by the forces battling ISIS in the area, to encircle the city, has been "going very, very well."
The newly arrived US forces, Dorrian said, are going to "expedite the defeat of ISIS in Raqqa." The Marines were deployed in addition to some 500 US personnel already in Syria.
You can share this story on social media: