'A day we don't want to see again': 7 injured in Dusseldorf ax attack, 1 arrested (PHOTOS, VIDEOS)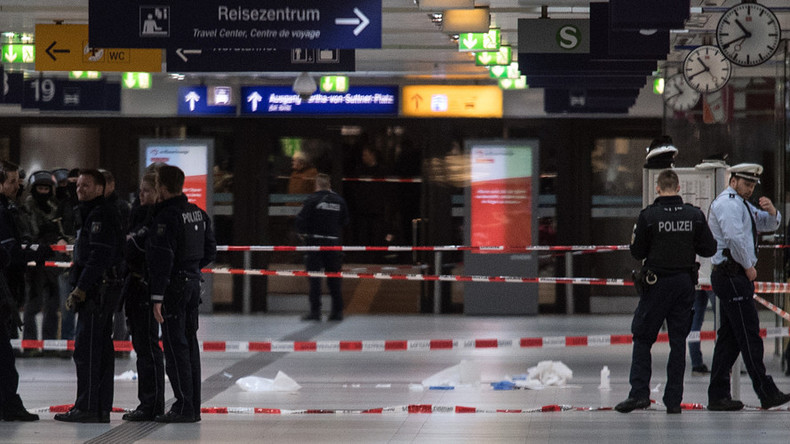 Police in Dusseldorf have arrested a 36 year old man following an ax attack at the city's main train station. Seven people have been injured, including three seriously, according to police.
The suspect, from the former Yugoslavia lives in Wuppertal, 28 kilometers from Dusseldorf, and has "obvious mental health problem", according to the latest statement from police.
Police were called to the scene at 8.50pm local time after being alerted to a violent situation at the station. Police said in an earlier press conference that five people were injured but have now confirmed that this figure has risen to seven, with three severely injured.
Police found the attacker's axe but said earlier it was not yet clear if he had acted alone as surveillance footage captured another person running quickly from the scene.
The search of the station is now complete and police say a preliminary investigation suggests there was only one perpetrator.
Following the police inspection, the Dusseldorf railway station has been reopened for public and all restrictions have been lifted as of 0:45pm local time, except for those imposed at the actual crime scene, as forensics experts continue to work at the site.
A police spokesman said earlier that the suspect was badly injured in the hospital. No information on the motive was provided.
"We are not using the words 'rampage' or 'terror'," the spokesman said, according to Reuters, adding that there was no serious threat of further attacks.
Federal police tweeted earlier that "speculation won't help" and said Dusseldorf police would inform the public about the ongoing operation at the main station.
A large police presence was deployed to the scene. A police helicopter circulated over the area, according to RP Online. Trains have been diverted from Dusseldorf's main train station while police continue to deal with the incident.
A police spokesman told the press that the attacks happened at two tracks and in the station hall. He said that the arrested suspect had tried to escape by jumping from an overpass in the vicinity of the station onto Ellerstrasse, injuring himself in the process.
A video posted online by an eyewitness inside the station shows the aftermath of the incident.
WARNING: GRAPHIC VIDEO
"They just came in here and attacked people with an ax. I saw many things in my life, but I have never seen anything like this. He just started hitting people with his axe," the man says. "The whole station is full of police officers. It is sickening."
Düsseldorf Mayor Thomas Geisel has visited the scene. "This is a day we do not want to see again," he told the media.
Federal chancellery minister Peter Altmaier tweeted after the incident: "Whatever happened at Düsseldorf's main station, our empathy and thoughts are with the innocent injured."
You can share this story on social media: