3mn Syrian children know nothing but war & are mentally scarred for life – report
Published time: 7 Mar, 2017 14:34
Edited time: 7 Mar, 2017 15:19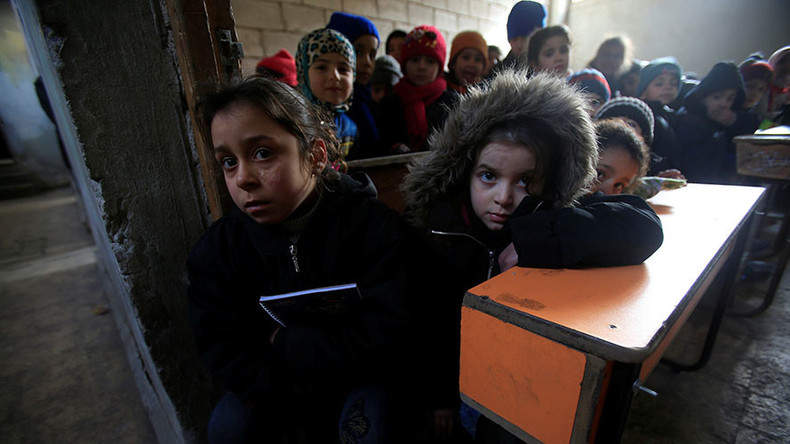 Children in Syria are showing symptoms of "toxic stress" and "deep psychological scars," after nearly six years of living in a constant state of fear, a new report by the international Save the Children Fund warns.
"When we do activities like singing with them, they don't respond at all. They don't laugh like they would normally. They draw images of children being butchered in the war, or tanks, or the siege and the lack of food", the report titled Invisible Wounds quotes a teacher in the besieged town of Madaya as saying.
The stress of war has led to speech impediments, frequent bedwetting, self-harm, suicide attempts, and aggressive behavior among many children, according to the report.
The psychological damage of living through more than half a decade of brutal violence can be irreversible, the report warns. Millions of children in Syria are estimated to be living in areas exposed to high-explosive weapons, and three million of those under the age of six know nothing but the atrocities of war.
"The risk of a broken generation, lost to trauma and extreme stress, has never been greater," says Marcia Brophy, a mental health adviser for Save the Children in the Middle East.
Investigators spoke with 450 children and adults in Syria about the ways war has affected them, and 78 percent of the children interviewed said they feel grief and extreme sadness most of the time. Two-thirds are said to have lost one or both of their parents during the war, or had their house bombed or shelled.
"This is the result of six years of war, and is a tragedy that can't be allowed to continue", Save the Children President and CEO Carolyn Miles said. "We can end the toxic stress many children are suffering by stopping the bombardment of civilian areas and reaching everyone with lifesaving aid and psychological support."
The war in Syria began in 2011 and has left roughly 300,000 people dead and 11.4 million displaced, both inside and outside the country. Half of those refugees are children, according to Amnesty International.