US deploys missile defense in S. Korea despite Russia, China opposition
The US has begun to deploy its advanced THAAD anti-missile defense system in South Korea, despite angry opposition from Russia and China. The step comes after North Korea fired four ballistic missiles toward Japan as part of an exercise targeting US bases there.
According to US Pacific Command, the first elements of the Terminal High Altitude Area Defense (THAAD) anti-missile system arrived at Osan airbase in Pyeongtaek, South Korea, on Tuesday.
"Continued provocative actions by North Korea, to include yesterday's launch of multiple missiles, only confirm the prudence of our alliance decision last year to deploy THAAD to South Korea," US Pacific Commander Admiral Harry Harris said in a statement, as cited by Reuters.
The move comes after North Korean state media said the country's leader, Kim Jong-un, had personally supervised Monday's launch of four missiles that landed in the sea off the northwest coast of Japan, angering both Seoul and Tokyo. US President Donald Trump and Japanese Prime Minister Shinzo Abe discussed the launches during a phone call on Tuesday, with Abe stating that the threat posed by North Korea has intensified.
"Japan and the US confirmed that the latest North Korean missile launches were clearly against UN resolutions and a clear provocation against the regional and international community. [North Korea's] threat has entered a new phase," Abe told reporters after the call, as cited by Reuters.
Pyongyang's move came as apparent retaliation for Foal Eagle, the annual joint military exercise of US and South Korean forces currently underway in the region. It has repeatedly been denounced by North Korea as a rehearsal for invasion.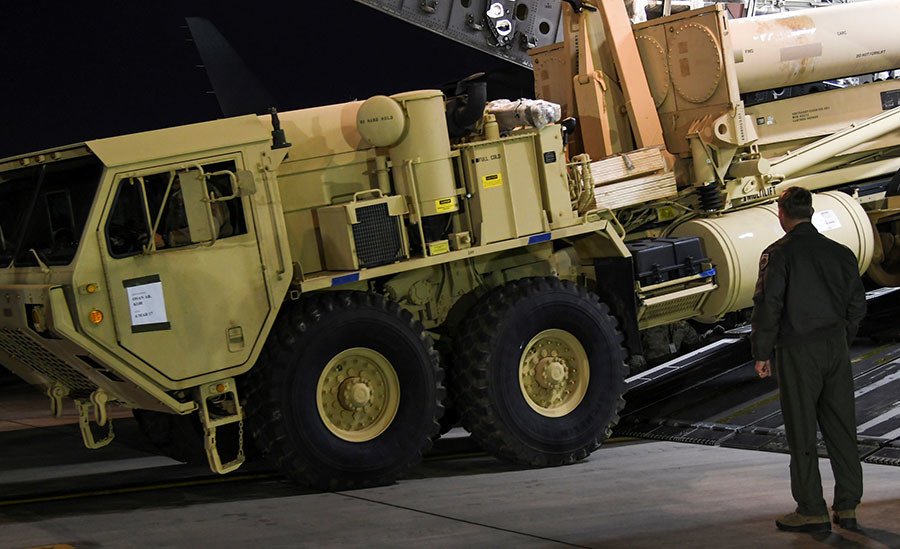 Both Russia and China have spoken out against the THAAD deployment. China's Foreign Ministry stated on Tuesday that it was "resolutely opposed" to the move, as cited by Reuters. Earlier, China repeatedly noted that the THAAD deployment could undermine its own ballistic missile capabilities.
The Russian Foreign Ministry said the current deployment could reduce the situation in the Korean peninsula to a stalemate, Interfax reported. According to Victor Ozerov, who chairs Russia's Federal Defense and Security Committee, the deployment could be a further step against Russia itself.
"This is yet another provocation against Russia[…] Under the guise of a North Korean threat, they want if not to close the ring around Russia, then at least to besiege it from the west and the east," Ozerov told reporters on Tuesday.
THAAD is a missile defense system designed to intercept short and medium-range ballistic missiles as they begin their descent to their targets. Developed by Lockheed Martin, THAAD missiles use infrared seeker technology to locate their targets and detonate on impact. South Korea intends to bring the system online by the end of the year, with a military official saying last month that the deployment could be completed by August. That is despite protests against the system staged by South Koreans last week, as well as a lawsuit filed against the South Korean Defense Ministry regarding the deployment.
You can share this story on social media: