US warned Israel of 'immediate crisis' if West Bank annexed – Israeli defense minister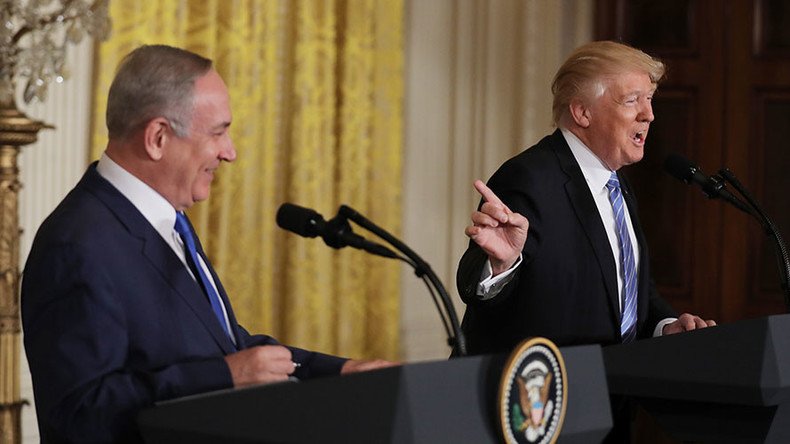 Israel risks a "crisis" with the new US administration if it moves to annex the West Bank, Israeli Defense Minister Avigdor Lieberman has cautioned in response to radical proposals related to Palestinian territories, citing a "direct" warning from Washington.
Calls to annex several settlements in the occupied West Bank, or even its whole territory, have been lately voiced by some members of the ruling coalition in the Israeli Knesset. The proposals have sparked an international outcry.
Speaking to the Israeli Parliament's Foreign Affairs and Defense Committee on Monday, Lieberman, however, implied that even the staunchly pro-Israel administration of Donald Trump has warned against annexing the West Bank.
"We received a message directly — not indirectly, not a hint — from the US, that Israeli sovereignty over the West Bank means an immediate crisis with the new administration," Lieberman said, as cited by The Times of Israel.
Lieberman did not provide any further details on the source of the statement and its contents.
READ MORE: Israeli MPs vote to legalize 4,000 settler homes in West Bank amid 'annexation' outcry
He added that in face of potential repercussions, the ruling coalition must make "unequivocally clear" that it harbors no immediate plans to enforce Israeli sovereignty on the occupied territories.
The warning followed the proposal by Miki Zohar, MP from Prime Minister Benjamin Netanyahu's Likud party, to discard the idea of the two-state solution once and for all and create a single Israeli state where Arab citizens would be stripped of political rights.
The controversial idea, first articulated by Zohar on The Spin Room talk show aired by I24News on Sunday, has immediately drawn criticism as being in violation of democratic principles of the Israeli state, forcing Lieberman to assure foreign partners that Zohar's viewpoint does not reflect the Israeli government's stance.
"Zohar is a leading member of the coalition. I believe he's the acting chairman of the coalition… I call on members of the Knesset and first and foremost on the coalition to act responsibly and take a clear and firm position," Lieberman urged. He argued that Zohar's proposal is not viable, arguing that Jewish people, on the contrary, "need to separate from the Palestinians."
READ MORE: Palestinians, with some luck of the Irish, may get another nod for statehood
Explaining the essence of his proposal, Zohar elaborated that not all Palestinians would be denied the right to vote in parliamentary elections, but only those who refuse to serve in the Israeli army.
"I promise you: they [the Palestinians] won't serve in the army, they will [prefer to] give up the option to vote," Zohar claimed, adding that Trump's reported criticism of his proposal might be a product of Lieberman's imagination, who wants "to dictate a reality that has not yet been created in Washington."
Last week, the deputy chairman of Palestinian Authority leader Mahmoud Abbas' Fatah party, Mahmoud Al-Aloul, did not exclude the possibility of a one-state solution, given that it would be a democratic state with equal rights to Palestinians and Jews.
READ MORE: Trump-Netanyahu: When one state is better than two
"The one state that we're talking about is historically a democratic state in which everyone lives equally — that is acceptable. However, we know that Israel will not accept it... they cannot agree to it," Al-Aloul told Asharq Al-Awsat newspaper, as cited by i24 News.
Following Trump's inauguration on January 20, Israel has ramped up its settlement activity, approving thousands of the housing units in the first weeks of his presidency and legalizing around 4,000 settler homes in the West Bank, with the so-called Regulation Bill, deemed by Israel's Attorney-General unconstitutional.
The new bill, envisioning annexation of the Ma'aleh Adunim settlement, had been in the works for several months. Proponents of the bill called for the legislation to be adopted following Trump's inauguration, but Netanyahu requested the bill be put on hold until his meeting with Trump on February 15. At the meeting, Trump asked Israel to "hold off on settlements for a little bit," but fell short of backing a two-state solution.
Since then, the bill has been postponed several times, most recently on Friday, when it was delayed for another week.
Ma'aleh Adunim, with a population of about 38,000, is the third largest settlement in the West Bank. Located seven kilometers from Jerusalem in occupied Palestinian territory, the settlement is considered illegal by international law.
You can share this story on social media: