Russian soldier killed near Palmyra on March 2 – Defense Ministry
Published time: 6 Mar, 2017 15:56
Edited time: 7 Mar, 2017 12:32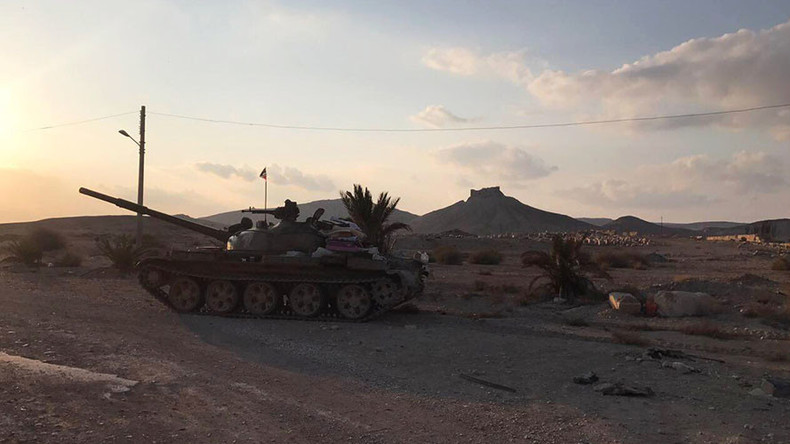 Russia's Defense Ministry has confirmed that a Russian soldier died near Palmyra, Syria, when Islamic State militants tried to break through to the area occupied by Syrian pro-government forces on March 2.
Soldier Artyom Gorbunov, 24, has been recommended for a posthumous state decoration.
"Military volunteer Artyom Gorbunov was guarding a group of Russian military advisers in the Syrian Arab Republic," a statement issued by the Russian Defense Ministry said.
His wife, Sofya, paid tribute to his memory in a post on Russian social media site Vkontakte on March 4, accompanying it with a photo of her husband in military uniform.
Syrian forces backed by the Russian Air Force liberated the ancient city of Palmyra from Islamic State militants on Friday, and Syrian engineers have begun examining the historic part of Palmyra, looking for mines.
Earlier, pro-government forces had recaptured the famous Palmyra citadel, which is located on a hill overlooking the town.
Palmyra, a UNESCO World Heritage Site, was captured by Islamic State in 2015. The terrorists destroyed a number of iconic monuments, including the 1,800-year-old Monumental Arch of Palmyra, most of the Temple of Bel, and the Temple of Baalshamin. In March of 2016, Syrian government forces supported by the Russian Air Force liberated the city and work on repairing the extensive damage and restoring the monuments began.
Russia has lost 27 servicemen in Syria, the Defense Ministry previously reported.
Earlier on Monday, it was also confirmed that a Russian major general had lost both his legs and an eye when a radio controlled bomb hit a convoy going to an airfield located west of Palmyra in the Syrian city of Homs. There is currently no "direct threat" to his life, according to the Kommersant newspaper, citing medical officials at Russia's Main Military Clinical Hospital.