North Korea sends Malaysia ambassador packing amid Kim Jong-nam murder fallout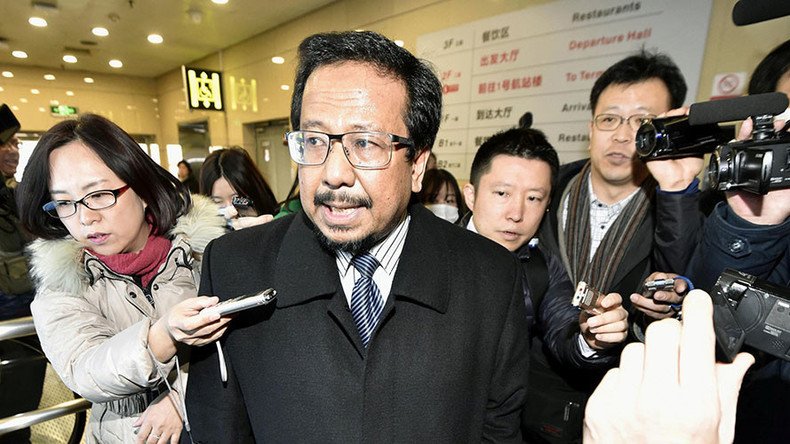 North Korea has announced it will expel the Malaysian ambassador within 48 hours, according to official news outlet KCNA. It comes after Kuala Lumpur announced it would be sending Pyongyang's ambassador packing.
The DPRK Foreign Ministry announced in a statement carried by KCNA that Malaysia's ambassador would no longer be welcome in the country as of Sunday, stating that 48 hours' notice had been given.
The Malaysian government declared North Korean Ambassador Kang Chol 'persona non grata' on Saturday, after he failed to appear at the Ministry of Foreign Affairs as requested.
Kang had previously ignored a request to apologize for multiple inflammatory statements, including questioning the finding by Malaysian police that the half-brother of North Korean leader Kim Jong-un, Kim Jong-nam, had been murdered with a banned nerve agent.
Kim Jong-nam, 45, died before boarding a plane to Macau from Kuala Lumpur Airport on February 13. Malaysian authorities say he was killed by the military-grade nerve agent VX.
Two women, Doan Thi Huong from Vietnam and Siti Aisyah from Indonesia, have been charged with the murder of Kim, who was traveling under a false identity.
The suspects were captured on CCTV approaching Kim, with one putting a cloth over this face which presumably contained VX.
Although Malaysian authorities have not directly accused North Korea of being behind the February 13 murder, Kuala Lumpur moved to scrap visa-free entry for North Koreans on Thursday, according to AP.
Kang previously said "we cannot trust the investigation by the Malaysian police" into Kim's death, accusing Kuala Lumpur of "hiding" facts for the political interests of its allies.
You can share this story on social media: