Avalanche that killed 6 at Russian ski resort caught on camera (VIDEOS)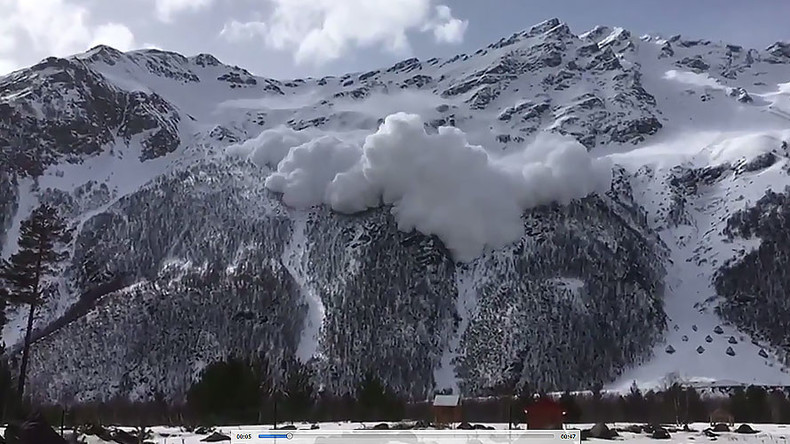 Six people have died and one injured in an avalanche at the Cheget ski resort in Russia's southern republic of Kabardino-Balkaria. The disaster which could have been triggered by the riders themselves has been caught on camera.
The avalanche swept through the northern hill slope of the Cheget Mountain - where skiing is banned - at around 12:00 local time.
"At 12:13 [local time] rescuers recovered two bodies, male and female," Kantemir Berov, spokesman for the regional unit of the Emergencies Ministry, told Interfax on Saturday. He added that a search and rescue operation is underway.
Five tourists were buried in the snow, with only one of them being able to escape, according to previous reports.
"The rescue operation has been concluded. The bodies of the four victims were transported to the foothills and handed over to the police," Berov told RIA Novosti earlier.
Three of those killed have been identified as "a man and woman from Moscow, another woman from Kirov," Albert Khadzhiev, head of the rescue team, said, adding that the fourth victim had no papers on him.
The head of the North Caucasus Militarized Service, Makhmut Budaev, told TASS that the tragedy occurred outside the equipped skiing area.
Two of the snowboarders went up the slope and could have triggered the avalanche that also hit three other riders beneath.
"The daredevils breached the information signs and the protective barriers," Budaev said.
READ MORE: Avalanches bury 'entire villages,' kill 100+ in Afghanistan & Pakistan amid freaky snowstorms
The avalanche could've also been caused by a recent warm spell, he said, adding that the slope where the incident occurred remains avalanche-prone at all time.