Robot hell: Fukushima disaster site 'needs smarter bots' for clean-up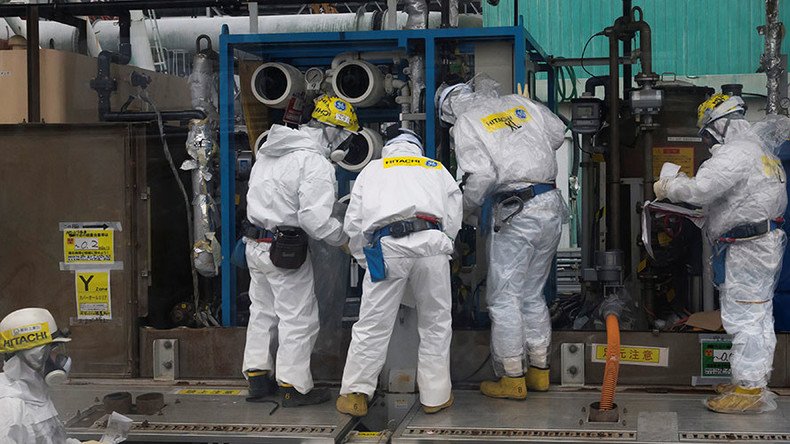 New ideas are essential for developing robots capable of surviving the devastating conditions of the damaged Fukushima nuclear plant in Japan, according to the plant's head of decommissioning.
The announcement follows a number of major robot fails among the group of remotely-controlled bots exploring and monitoring the site.
READ MORE: Bad news for bots: Fukushima cleanup robots overpowered by radiation (VIDEOS)
Naohiro Masuda, president of Fukushima Daiichi Decommissioning, said Thursday that more creativity is needed to produce robots that can find and assess the condition of melted fuel rods in the high-level radiation site, reported Japan Today.
"We should think out of the box so we can examine the bottom of the core and how melted fuel debris spread out," Masuda said.
Last month a clean-up mission at No.2 reactor had to be aborted after extremely high radiation caused the robot to break down. Two similar missions were dropped earlier after one robot got stuck in a gap and another was abandoned after finding no fuel during a six day search.
READ MORE: Extremely high radiation breaks down Fukushima clean-up robot at damaged nuclear reactor
Even specially-designed aquatic robots probing the depths beneath the power plant have malfunctioned as a result of the radioactive substance inside the reactor.
The plant's operator, Tokyo Electric Power Co (TEPCO), is trying to find the exact location of the melted fuel and structural damage in each of the three reactors to determine the safest way to remove the fuel.
The probes are reliant on remotely-controlled robots as radiation levels are too high for humans, however the androids have failed to rise to the challenge, leaving TEPCO with a major decommissioning struggle on its hands. TEPCO is, nevertheless, forging on and plans to have made a decision on removal methods at Reactor 2 this summer, with work commencing in 2021.
A tiny waterproof robot will be sent into the No.1 reactor in the coming weeks, while experts continue to work on a way to access the badly damaged No.3 reactor. Toshiba is reportedly developing another robot for this purpose that should be ready next year.
Three of the Fukushima plant's six reactors were hit by meltdowns in 2011, after a 9.0-magnitude earthquake and tsunami struck, resulting in the worst nuclear disaster since Chernobyl in 1986.
Thousands of nearby residents were evacuated, and many have still not been able to return to their homes due to high radiation levels.
The decommissioning process is expected to span decades and cost tens of billions of dollars.
You can share this story on social media: