'Islamophobia is becoming institutionalized,' Muslim nations tell UN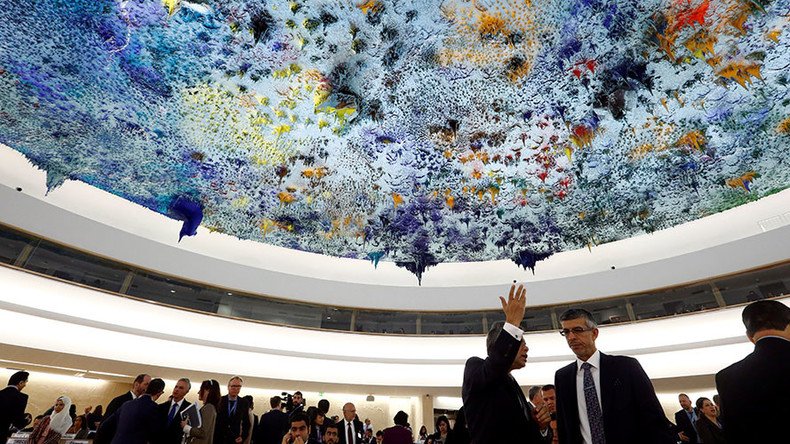 The ascent of far-right politics has split the world, and discrimination against Muslims is becoming enshrined in law, says Yousef Al-Othaimeen, Secretary-General of the Organisation of Islamic Cooperation (OIC), which comprise 57 nations with Islamic majorities.
"Far-right politics is on the rise, strengthening the narrative of 'us' against 'them'," said Al-Othaimeen, during an official session of the UN Human Rights Council in Geneva on Wednesday. "This is a scary scenario for an intolerant world that none of us would like our children to live in. We, therefore, need to play our role."
Al-Othaimeen criticized the "blanket restrictions and discriminatory policies" that have been "imposed on Muslims based on their religion," though avoided specifically mentioning US President Donald Trump's ban on travel from seven Islamic-majority states. Trump's executive order, which the White House says was motivated by security concerns, not religious prejudice, remains stuck in legal limbo.
More specifically, Al-Othaimeen, whose organization is made up of countries with a total population of 1.8 billion, asked the United Nations to turn its attention to the treatment of the minority Muslim population in the restive Rohingya region in Burma.
Following clashes with separatist militants last October, a predominantly Buddhist state - which is under the de facto rule of the Nobel Peace Prize winner Aung San Suu Kyi - has instituted a severe crackdown in the region. A recent UN report has accused the Burmese government of "devastatingly cruel" treatment of the minority that has included killings, torture, systematic rape, as well as economic punishments that have led to hardship and malnutrition.
The OIC Secretary-General highlighted the "apartheid" under which Muslims live in Israel and Palestine and said Syrian Muslims were suffering "the worst repression in their history," due to the conflict that has raged inside the country since 2011.
Al-Othaimeen, a Saudi citizen, who assumed his post last year, also noted that the OIC states are holding most of the world's refugees who have been displaced as the result of domestic and international conflicts.
The UN Human Rights Council was instituted as an independent international arbiter but has become increasingly politicized.
The United States has recently threatened to withdraw over its "obsession with Israel" – a special session has been dedicated in Geneva to dealing with Israeli human rights abuses – while a prominent role for Saudi Arabia, which has one of the world's most conspicuously poor human rights records, has also attracted derision.
You can share this story on social media: