Exorcists strip 'possessed' woman naked, burn her on bonfire in Nicaragua
Published time: 1 Mar, 2017 14:30
Edited time: 2 Mar, 2017 09:42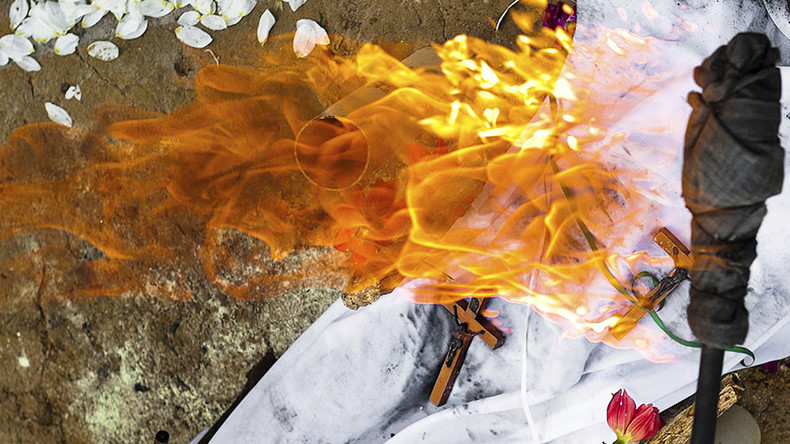 An exorcism ritual in the Nicaraguan village of El Cortezal resulted in death after a "possessed" woman was thrown on a bonfire, local media report.
Juan Gregorio Rocha Romero, a pastor in a local evangelical group, accused Vilma Trujillo of being possessed by a demon.
"God told her he was going to remove that evil spirit from her and asked us to start a fire as that's where the spirit was going to be expelled," he told La Prensa.
The pastor and four other people reportedly tied up Trujillo and threw her naked into a bonfire. They have been arrested, according to prosecutors, but deny setting the woman on fire.
"We were praying, when we looked up and saw she was on fire," Rocha Romero said.
Trujillo, who was 25 and is survived by her husband and two children, died of burns at one of the hospitals in Managua on Tuesday, five days after the incident, La Prensa reports.
The woman was said to be possessed after she tried to attack people with a machete, her husband Reynaldo Peralta told the daily. The pastor reportedly tried to heal her with prayers before attempting the fire ritual.
Vilma García Trujillo (22) grave en el Lenin Fonseca , quemada en ritual comunidad Cortesal, Rosita, Caribe Norte x el pastor Juan Rocha pic.twitter.com/u5hHg5N9OM

— Marlon Salinas (@todoenoticias) 24 February 2017
"My wife spent eight days prisoner in that congregation and her sister told me that to burn her, they got some firewood together and then they pushed her naked on the flames," Peralta said, as quoted by The Sun.
Family rescued her from the fire hours later. Peralta says she suffered first degree burns to 80 percent of her body.
"It's unforgiveable what they did… to us. They killed my wife, the mother of my two little ones," Peralta told La Prensa. "Now what am I going to tell them?"
Rosario Murillo, Nicaragua's vice president and first lady, slammed the crime as "deplorable."
"Something like this cannot happen again," she said.