Iran test-fires smart torpedo in grand finale of massive naval drills (VIDEO)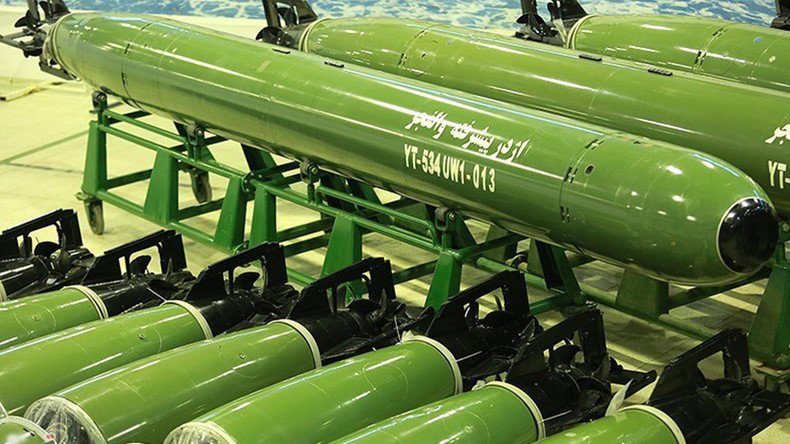 Iran has successfully tested the country's indigenous Valfajr torpedo system on the last day of two week-long naval drills, during which the Islamic Republic also featured other advanced military technology including cruise and anti-ship missiles.
Tuesday marked the last day of the Velayat 95 naval exercises across an area of 2 million sq. km - covering the Strait of Hormuz, Sea of Oman and the northern part of the Indian Ocean.
The grand finale of the drills, which have been underway since early February and entered their final phase Sunday, showcased the successful use of Valfajr torpedo system.
Footage released by the Iranian Navy showed the torpedo being fired from a submarine before hitting and blowing up a target ship in Iran's territorial waters in the Persian Gulf.
"The Iranian Navy's Qadir-class submarines (which are equipped with sonar-evading technology and can fire missiles and torpedoes simultaneously) searched and traced hypothetical enemies' targets using advanced radar systems and then destroyed them by firing Valfajr torpedoes," Iran's Fars news reported.
The Valfajr torpedo, the concept of which was unveiled in 2011, is designed to attack various seaborne targets, including large vessels. It's reported 220-kilogram warhead is capable of crippling naval targets in different weather and depth conditions. Iran started producing such weapons in October 2015.
"What makes Valfajr torpedo stand apart from other similar products in the world is the short preparation time in the supporting and firing units; a characteristic which leads to a remarkable increase in tactical capability and a quick response from surface and subsurface combat units," Iran's Defense Minister Brigadier General Hossein Dehghan was quoted as saying earlier.
Overall, the massive Naval drills featured a number of advancements in Iran's indigenous made military technology. On Monday, the Iranian Navy successfully test-fired its "Nasr" sea-launched cruise missile. Tehran also unveiled and used its anti-ship "Dehlaviyeh" missiles for the first time.
READ MORE: Iran test-fires Nasr sea-launched cruise missile during drills (VIDEO)
A massive naval force of submarines and missile-launching destroyers started the war-games on February 13. Missile and electronic warfare systems, drones, fighter jets, helicopters and marines all took part in the Velayat 95 naval exercises.
"The aim of the Velayat 95 drill is to upgrade the country's defensive capabilities and send Iran's message of peace and friendship to the regional countries," Navy Commander Rear Admiral Habibollah Sayyari said over the weekend.
You can share this story on social media: