Critics accuse European Parliament of censorship over 'kill switch' to cut racist remarks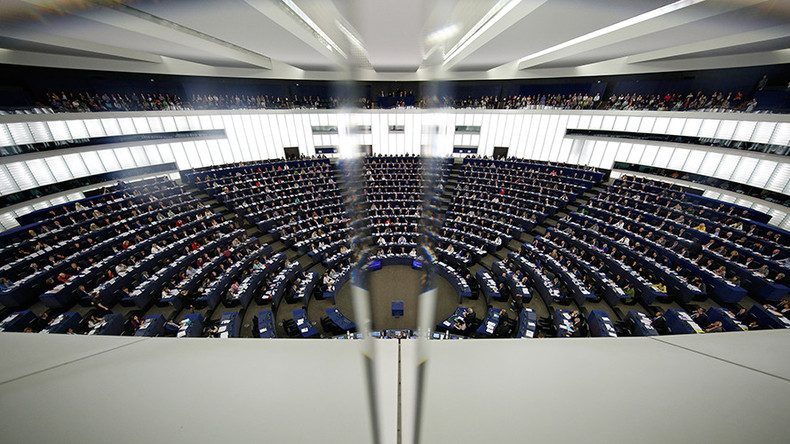 The European Parliament is introducing a new rule set to curb hate speech, cutting live debate feeds and removing video/audio traces of offensive remarks. A fierce backlash from press and MEPs has critics accusing the EU Parliament of censorship.
The new rule would let the chair of a debate cut a live feed from the parliament "in the case of defamatory, racist or xenophobic language or behavior by a member," also imposing a $9,500 fine on the offender. Remarks deemed offensive could also be erased from "the audiovisual record of proceedings."
The step apparently aims to tackle racist remarks by far-right members of the EU parliament. For instance last year, Eleftherios Synadinos, an MEP for Greece's far-right Golden Dawn party, was expelled from the parliament after calling Turks "dirty and polluted" and comparing them to "wild dogs."
Some MEPs agree that far-right rhetoric can go over the top at the parliament.
"There have been a growing number of cases of politicians saying things that are beyond the pale of normal parliamentary discussion and debate," said Richard Corbett, a UK MEP who backed the new rule, according to AP.
"What if this became not isolated incidents, but specific, where people could say: 'Hey, this is a fantastic platform. It's broad, it's live-streamed. It can be recorded and repeated. Let's use it for something more vociferous, more spectacular,'" he added.
The latest step wasn't made public and triggered a massive backlash by the press representatives and MEPs, with many of them questioning if the latest measure could amount to censorship.
"This undermines the reliability of the Parliament's archives at a moment where the suspicion of 'fake news' and manipulation threatens the credibility of the media and the politicians," Tom Weingaertner, president of the Brussels-based International Press Association, told AP.
Many journalists and MEPs took to Twitter to vent over the latest development.
It should be noted that the issue was on the table as early as last December. Back then Gerolf Annemans, an MEP from Vlaams Belang, Belgium's Flemish independence party, voiced his concern that the measure could be "abused by those who have hysterical reactions to things that they qualify as racist, xenophobic, when people are just expressing politically incorrect views," as cited by AP.
Some of the MEPs voiced more balanced views, with German deputy Helmut Scholz saying that EU lawmakers are chosen to speak out on the state of Europe, adding that one "can't limit or deny this right." At the same time, he said a tool was needed to tackle Nazi shouts and racists remarks.
"We need an instrument against that, to take it out of the record, to stop distribution of such slogans, such ideas," Scholz argued.
You can share this story on social media: