Man armed with knife drives into people in German city, kills 1, shot by police (VIDEO)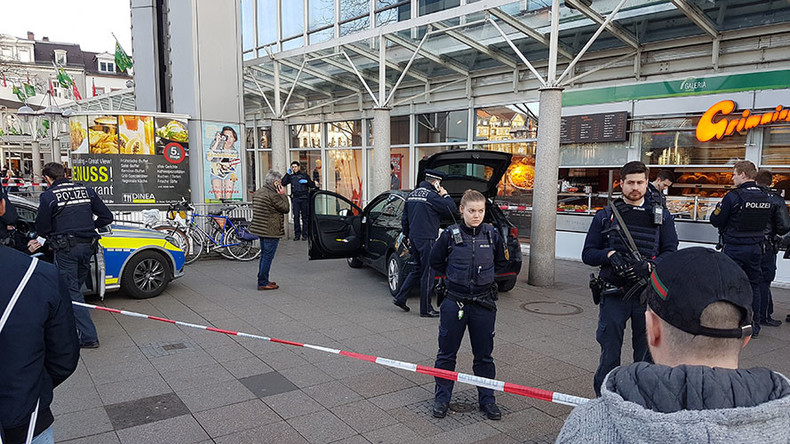 A man armed with a knife has driven a car into people in the southern German city of Heidelberg, killing one pedestrian and injuring two others, according to police. The suspect was shot after a short standoff with officers and taken to the hospital.
The suspect has been identified as a 35-year-old German citizen, Mannheim police and Heidelberg's prosecution office said in a joint statement.
Three people were rushed to hospital following the attack, with the police later saying that one of them, a 73-year-old man, has died of his injuries.Two other victims of the attack have been named as a 32-year-old Austrian citizen and a woman from Bosnia and Herzegovina, aged 29. They have been already sent home upon receiving first aid at the scene.
The incident occurred in Heidelberg's central square at around 16:00 local time (15:00 GMT), when a car drove into a group of people standing in front of a local bakery, German media report. Rhein-Neckar Zeitung reports that he deliberately drove into the crowd, citing eyewitnesses. However, this has not been confirmed by police.
The suspect, who was armed with a knife, then fled the scene and was later stopped by a police patrol. He was shot by an officer following a short standoff and was taken to the hospital with serious injuries.
The car used by the suspect was a rented one and had Hamburg vehicle registration places, the media report. Police have not identified the suspect so far, and his motives also remain unclear. However, police say they have no evidence proving that the incident was a terrorist attack, dpa news agency reports. The suspect reportedly acted alone.
A video has surfaced on Twitter showing the man's standoff with police. RT has worked to verify the Twitter video, collaborating it against images and information from local reports.
German police dismissed media reports that the suspect could be mentally ill. Police spokesman Norbert Schaetzle called such reports "speculation" and stressed he could not "confirm" them in comments to Germany's N24 TV Channel.
"We are working on the identification of the suspect right now… and on establishing his motives," he said. He added that there was "no evidence suggesting that it was a terrorist attack."
You can share this story on social media: