Ex-Ukrainian President Yanukovich calls upon EU, US to investigate Maidan crimes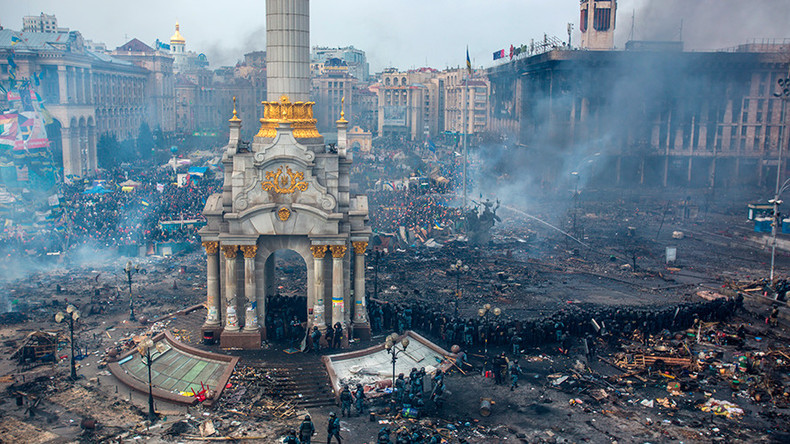 Former Ukrainian President Viktor Yanukovich has written to world leaders calling to investigate protesters' deaths and crimes against police during the Maidan protests. He also asked Donald Trump to assess US officials' actions during the Ukraine crisis.
"I would like to emphasize that all bloodshed that ensued further in Ukraine originated from the violence on Maidan [Nezalezhnosti, or Independence Square]. Never before did Ukraine see bloodshed on such a scale until the mass shooting of people in Maidan," Yanukovich said in a letter to French President Francois Hollande, German Chancellor Angela Merkel, as well as to the Council of Europe and the European Parliament.
He called upon EU leaders to demand that Ukrainian authorities launch a genuine probe into the killings and other grave crimes committed on Maidan against the police who were on duty "to maintain public order and protect the constitutional order of Ukraine."
The Council of Europe should create a special commission to monitor the progress of such a probe, the ex-president said. This commission, together with Ukrainian opposition should be allowed by Kiev to monitor the probe of crimes committed in Ukraine between 2014 and present day.
"If we are to bring back peace and rule of law to Ukraine, there should be an honest and open investigation of the tragic events of February 14 [2014] that provoked further escalation of the conflict that resulted in a civil war in Ukraine."
A letter to Donald Trump differed from others. Apart from calls to investigate Maidan crimes, Yanukovich called on the US president to assess "the part played in them by the US officials" in these events.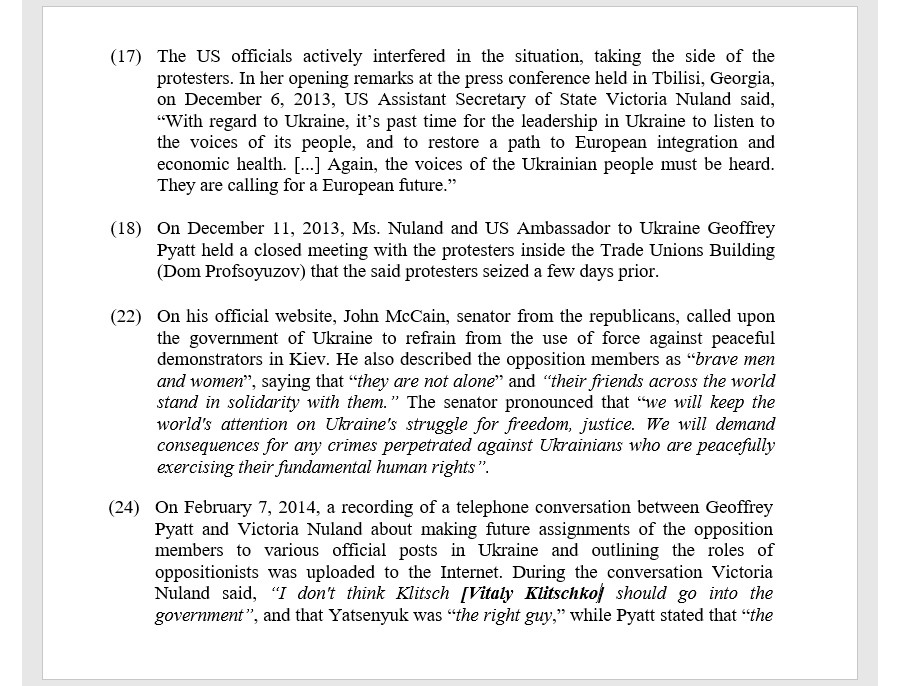 "I request you take action in defense of the main human rights in Ukraine, restoration of democracy and rule of law, in particular … give an objective legal and political assessment of the actions by the US officials during the Ukraine crisis."
Yanukovich said that US officials "actively interfered" in the situation in Ukraine, taking the side of the protesters. In particular, he mentioned then-US Assistant Secretary of State Victoria Nuland, then-US Ambassador to Ukraine Geoffrey Pyatt and US Senator John McCain.
"Feeling the support on the part of the USA, the opposition did not stop," he added.
READ MORE: 'F*ck the EU' and more: Victoria Nuland's 4 most memorable moments
According to Yanukovich, the evidence he refers to is "an objective reflection of the events that took place in Ukraine."
"We need to take urgent and exhaustive measures to stop the war that started as a result of short-sighted and irresponsible actions by the Ukrainian and Western politicians."
Protests in Kiev's central Maidan Square began in late 2013 when the Ukrainian authorities put off signing an association agreement with the EU. This move sparked mass protests that later became known as Maidan or EuroMaidan. Those saw Yanukovich ousted from the presidency and flee to Russia. The clashes between armed protestors and Berkut riot police left dozens of people dead, with many law enforcement representatives among the victims.
The new Kiev authorities accused the Berkut forces of using firearms against the protesters, but there were reports of unidentified snipers who targeted people on both sides.
Yanukovich, who currently lives in exile in Russia, has repeatedly stated that Ukrainian Maidan coup leaders must testify before court.