Germany to increase army strength as US demands greater commitment from NATO members
Published time: 21 Feb, 2017 21:10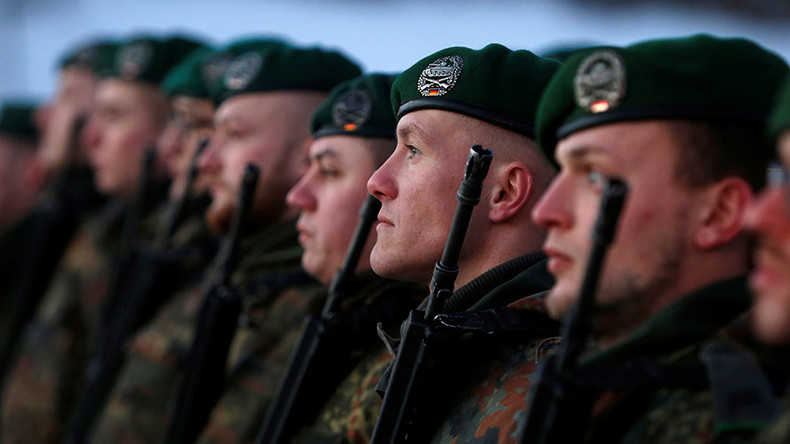 Germany has announced its plans to increase its army by 5,000 troops, with 500 extra reserves and 1,000 civilian posts, aiming to have a total manpower of 198,000 by 2024.
The announcement was made on Tuesday by Defense Minister Ursula von der Leyen in a statement published on the Bundeswehr (German armed forces) website.
"The Bundeswehr faces demands like never before," said von der Leyen. "In the fight against IS [Islamic State, formerly ISIS/ISIL] terrorism, the stabilization of Mali, or our considerable NATO presence in the Baltic States."
Germany's armed forces "must also be able to grow with its tasks," she added.
These new plans to boost the Bundeswehr would cost an extra 955 million euros (over a billion dollars) per year from 2024.
The United States under President Donald Trump has signaled its desire for other NATO members to make greater commitment to the alliance.
At a summit in Wales in 2014, the alliance members agreed to each country setting aside 2 percent of their GDP for their defense budgets, a target currently only met by the US and four other members – Poland, Estonia, Greece and the UK.
Germany's military spending is around 1.22 percent, but at the Munich Security Council, German Chancellor Angela Merkel reassured US Vice President Mike Pence that Germany was committed to the agreement.
Since World War II, Germany has been reluctant to get its military heavily involved in overseas conflicts, but German troops have taken part in operations in Mali and Afghanistan as well as coalition efforts against the Islamic State terrorist group.
In January, Germany started moving a contingent of 1,200 soldiers to the Rukla military base in Lithuania, a mere 100 kilometers (62 miles) from the Russian border.
READ MORE: 450 German troops head for NATO deployment in Lithuania
In addition, dozens of US Chinook, Apache and Black Hawk helicopters were deployed to the German port city of Bremerhaven earlier in February as part of the largest build-up of NATO troops in Germany and Eastern Europe since the Cold War. The Russian government has consistently condemned the NATO build-up as a threat to regional security.
"This deployment is of course a threat for us," Russian Deputy Foreign Minister Aleksey Meshkov said on February 9, adding that "it is obvious that the steps by NATO gravely increase the risk of incidents [between NATO and Russian forces]."