Montreal votes to become 'sanctuary city' for non-registered migrants
Published time: 21 Feb, 2017 11:34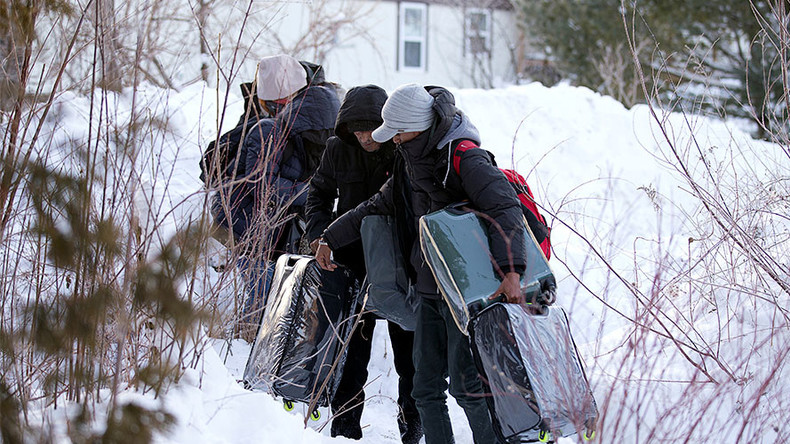 The council of Canada's second most-populous city has voted to adopt the status of a 'sanctuary' for non-status immigrants. The motion means that any undocumented migrant will have full access to local services without fear of being turned in or deported.
The motion was passed by Montreal city council on Monday, and was initially put forward by Mayor Denis Coderre, who is also a former Canadian immigration minister.
Addressing the press, Coderre said Montreal has the means to take care of the refugees living there, and that it was time for the city to take action.
"[We can provide] healthcare, housing, integration. A lot of these people are victims. They've been victims of terrorist acts, they've been kicked out of their country or left because of their situation – from sexual orientation to political refugees. Some of them have been here six, seven, eight years.
"We have the capacity to provide services under our own jurisdiction, so when we are talking about housing, when we are talking about basic service – we will be able to do that," Coderre said, as cited by CTV News.
Under the motion, the refugees will gain access to municipal housing programs, and will be able to visit libraries and recreational centers. Those without documents will be subject to assistance from Montreal police without being reported to immigration officials.
The Montreal authorities also called on the Quebec government, which is responsible for provincial immigration, to ensure the refugees are granted access to healthcare and emergency services, while urging the federal government to regularize the status of undocumented migrants.
"The bottom line is to integrate them. And if you don't have a criminal case [or pose a security risk], we will normalize your situation. You will be able to remain here," he promised.
According to Global News, there may be as many as 50,000 undocumented migrants in Montreal.
The mayor noted that he saw the need to act after recent events in the United States. More and more people have been crossing the US border into Canada illegally, after US President Donald Trump launched a crackdown on illegal immigration and proposed placing restrictions on refugees.
Citing Canada's border services agency, the Star reports that some 452 people filed claims for refugee asylum at Quebec-US land border crossings in January.
Some advocate groups merely see Montreal's move as "symbolic," saying that the motion will be "inadequate" if it is not followed by more specific measures to help refugees.
"The City of Montreal needs to get beyond easy symbolism and undertake tangible measures […] to end deportations and ensure access without fear by undocumented migrants to all essential services including health care, education and housing," said Stacey Gomez, a community organizer of Solidarity Across Borders.
The group had been campaigning for Montreal to be declared a sanctuary city since 2009, and is now calling for Montreal to become a "solidarity city," which would include non-collaboration with police authorities with regard to illegal refugees.
Montreal is now Canada's fourth sanctuary city, after Toronto, Hamilton and London, Ontario, passed similar legislation. Ottawa, Saskatoon, Winnipeg and Regina are also mulling over the idea, according to CBC. Vancouver is not a sanctuary city, but it last year adopted an 'Access to City Services Without Fear' policy for undocumented residents or people with uncertain immigration status.
As of December last year, the US had roughly 300 sanctuary cities, counties and states, including New York and Washington, according to data from the Center for Immigration Studies. However, President Trump recently threatened to cut federal funding to such cities if they fail to cooperate with his stated plans to deport undocumented residents.