Iran launches 'smart & advanced' rockets during military exercises
Published time: 20 Feb, 2017 12:49
Edited time: 23 Feb, 2017 13:20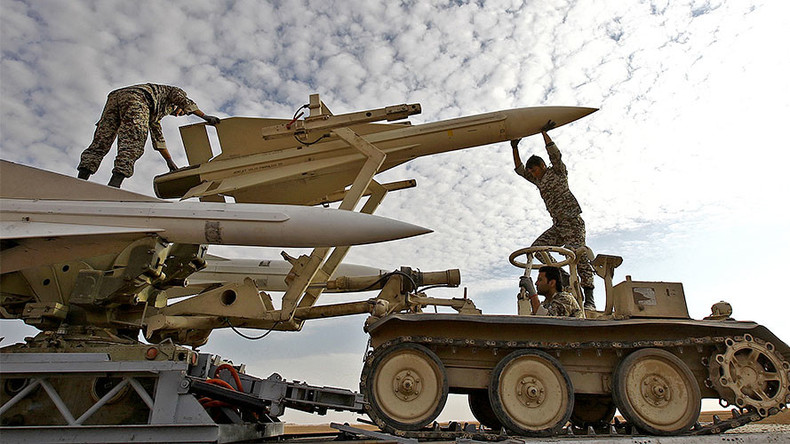 Iran's Revolutionary Guards have launched sophisticated rockets during military exercises, according to Tasnim news agency. It comes just weeks after the US put Iran "on notice" after it test-fired a medium-range ballistic missile.
The "smart and advanced" rockets were launched during three-day military drills which began on Monday in Iran's central desert, AP cited the semi-official Iranian news agency as saying.
Tasnim did not elaborate on the model of the rockets, but said they successfully hit their targets.
The news follows less than three weeks after US President Donald Trump tweeted that Iran had been formally put "on notice" for test-firing a ballistic missile.
Iran has been formally PUT ON NOTICE for firing a ballistic missile.Should have been thankful for the terrible deal the U.S. made with them!

— Donald J. Trump (@realDonaldTrump) February 2, 2017
The 'notice' came after Iran warned Washington against "creating new tensions" over the missile launch, stating that its missiles are not in violation of United Nations resolutions because they are for defensive purposes, and are not designed to carry nuclear warheads.
Meanwhile, Iran's Foreign Minister Mohammad Javad Zarif appeared to mock the US threat while speaking at a global security conference in Munich on Sunday.
When asked whether Iran was concerned about the possibility of more US sanctions, Zarif prompted laughter from the crowd by stating that "tweet is now very fashionable," in an apparent reference to Trump's affinity for Twitter.
He went on to state that "Iran doesn't respond well to threats...we don't respond well to coercion. We don't respond well to sanctions, but we respond very well to mutual respect..."
Zarif added that "everybody tested us for many years – all threats and coercions were imposed on us," while stressing that the "concept of crippling sanctions" didn't stop Iran from acquiring thousands more centrifuges which are used for enriching uranium.
The statement comes amid Trump's hard-line rhetoric against Tehran, with the US leader saying he will not be as "kind" as his predecessor Barack Obama.
Trump has stated that military options are not off the table when it comes to Iran, and has repeatedly criticized the nuclear accord agreed between Tehran and six world powers as "disastrous" and the "worst deal ever negotiated." He told an American Israel Public Affairs Committee (AIPAC) conference in May that his "number one priority" was to dismantle the deal.
The deal – which was agreed between Tehran and the US, Britain, France, Germany, Russia, and China in 2015 – outlines Iran's commitment to reduce its nuclear program in exchange for the six world powers lifting international sanctions against the country.
Tensions were further strained between Washington and Tehran in January, when Trump issued a travel ban on citizens from seven mainly-Muslim countries, including Iran. Tehran called the ban "insulting" and vowed to take "reciprocal measures."