Russia's new ICBMs can 'rip apart' US anti-missile systems – Deputy PM Rogozin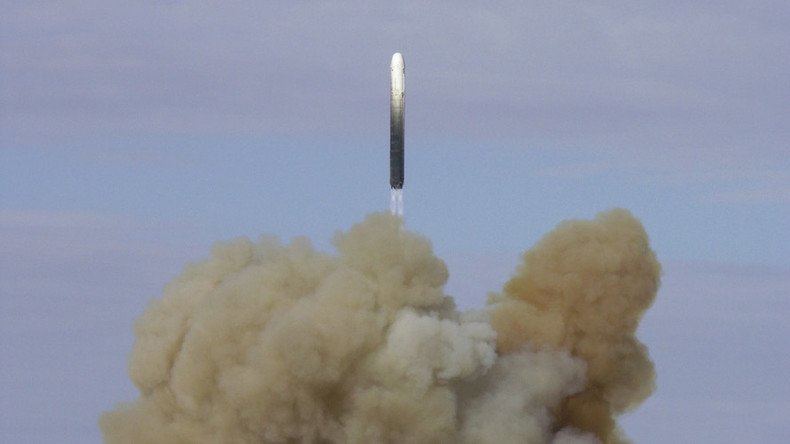 Russia is constantly improving its nuclear deterrence and is very close to deploying new technologically-advanced intercontinental ballistic missiles which can defeat any US missile defense systems, a Russian deputy prime minister said in an interview.
"These weapons will soon appear in our armed forces," Dmitry Rogozin told Rossiya-1 TV on Sunday. While not naming the new ICBM, the deputy PM in charge of the defense industry said the missile will have the capacity to penetrate any American air defenses.
"These weapons are able to clear the United States' missile defense both of today and of tomorrow – and even of the day after tomorrow," Rogozin said.
Rogozin also noted that the existing Russian nuclear deterrent forces, made up of various missiles including the Soviet-era R-36M2 Voevoda (SS-18 Satan) ICBMs, which he described as "very reliable," will remain in use until the latest arsenal becomes operational.
While the weapon of the future wasn't named, media were quick to allege that Rogozin was most likely describing the RS-28 Sarmat heavy intercontinental ballistic missile, which is being introduced as part of Russia's nuclear modernization.
Currently Sarmat is undergoing the final stages development at the Makeyev Rocket Design Bureau in the city of Mias. According to reports, the new missile, weighing at least 100 tons, will be capable of carrying a payload of up to 10 tons on any trajectory.
"We can rip their air defenses apart; at the moment [the US defense shield] poses no serious military threat to us, except for provocations," Rogozin said.
Last summer the US activated an $800 million missile shield base in Romania, which will form part of the larger Aegis-based missile defense system in Europe.
While the officially-stated purpose is to counter a potential threat from Iran, the system's proximity to Russian borders threatens Russia's national security by tipping the global balance of power. Moscow has taken counter measures including the deployment of Iskander missile system to its western exclave, Kaliningrad, in the wake of concerns over potentially multi-purpose "defense" installations in Europe.
The land- and sea-based Aegis Ballistic Missile Defense System provides the US with missile defense against short to intermediate-range ballistic missiles. Short, medium, and intermediate missiles can also be intercepted using Terminal High Altitude Area Defense (THAAD) system.
For intercontinental ballistic missiles the US uses the Ground-Based Midcourse Defense (GMD). GMD missile-defense system was developed to intercept enemy warheads prior to their entry into the atmosphere. The system consists of ground-based interceptor (GBI) missiles based throughout the West coast of the US and a radar in the state of Alaska.
In the lengthy interview about Russia's military capabilities, Rogozin also mentioned Moscow's state-of the art tank.
"Speaking of tanks, we definitely have an advantage, because [the T-14 Armata tank] today leaves American and Israeli tanks, not to mention European tanks, behind in terms of technical characteristics."
First presented at the Victory Parade in Moscow on May 9, 2015, the mass production of T-14 Armata is expected to begin in 2018.
One of tank's main advantages is its fully-automated and unmanned turret, as well as HD cameras that provide an outside view. It is capable of moving at an estimated speed of up to 90kph, more than 20kph faster than the US mainstay Abrams M1A2.
The Russian military and Uralvagonzavod engineers also promise to turn the T-14 into a completely automated system that can be operated on the battlefield using only a remote control.
You can share this story on social media: