'Largest pandemic in 100 years' threatens China as bird flu spreads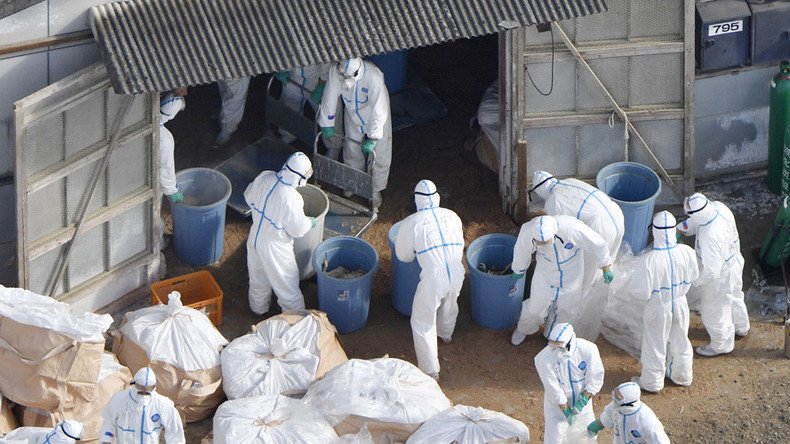 China could be facing the worst bout of bird flu to hit the country in a century, with Avian Influenza A(H7N9) accounting for the deaths of 79 people in January from the 192 human cases reported so far.
The outbreak has been described as the "worst season since the virus first appeared in the country in 2013," by members of the Chinese Center for Disease Control and Prevention.
Guan Yi, an expert in emerging viral diseases at the University of Hong Kong in China, said the surge in human cases is a cause for grave concern. "We are facing the largest pandemic threat in the last 100 years," he told Science.
Between December 20, 2016 and January 16, 2017, a total of 918 laboratory-confirmed cases of human infections as well as 359 deaths from H7N9 worldwide have been reported to the World Health Organization (WHO).
Until it was detected in China in March 2013, the virus hadn't been seen in people or animals, apart from birds. Although it "does not appear to transmit easily from person to person," the disease is raising concern because "most patients have become severely ill," the WHO says.
As a rule, infection with the A(H7N9) virus is marked by fever, cough, respiratory problems and rapidly progressing pneumonia. "Severe illness and fatal outcome have been more frequently observed in pregnant women, in older persons and those with underlying chronic conditions," according to research published by the WHO last week.
At this stage, it's thought that most of the cases of human infection can be traced to "recent exposure to live poultry or potentially contaminated environments," with poultry markets of particular concern. To date, A(H7N9) virus has not been reported in poultry populations outside China, according to the WHO.
Four previous epidemics have been observed in China between February 2013 and September 2016, with this outbreak now officially classed as the fifth.
Among the possible reasons for the sudden increase of H7N9 cases is "increased environmental contamination by the H7N9 virus," while Ni Daxin, deputy director of emergency response for the Chinese Center for Disease Control and Prevention, said on Wednesday that weather conditions and "the local habits of buying live or freshly slaughtered chickens," have also helped spread the virus.
The closing of live poultry markets has helped to slow down the spread of the virus, however, according to Ni. "If the public buys only frozen poultry, control of the epidemic will be much easier. The nutritional value is equal to that of freshly slaughtered poultry, but it involves far fewer health risks."
You can share this story on social media: