Child killed, 15 wounded in car bomb explosion in southeast Turkey
Published time: 17 Feb, 2017 22:56
Edited time: 18 Feb, 2017 13:24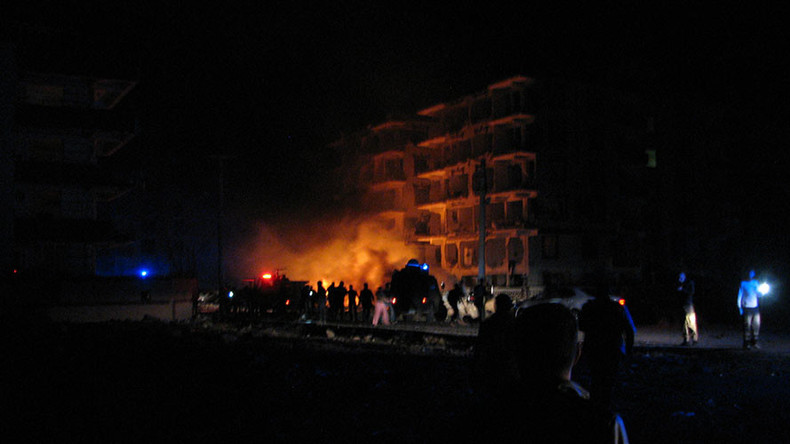 A car bomb has exploded in front of government lodgings in the town of Viransehir in southeastern Turkey, killing a child and injuring 15 others, local media reports.
The blast happened around 8:45 pm local time (17:45GMT). Authorities believe the car belonged to a teenager who was seen parking the vehicle at the site of the explosion.
The bomb was detonated remotely, according to Sanliurfa Governor Gungor Azim Tuna. The young boy was killed and at least 15 others were injured in the blast. Conflicting reports suggested the child was either six or three years old.
Meanwhile, according to the information obtained from the provincial governor's office by Reuters, at least 17 people were injured.
"The terrorist attack was carried out by detonating the bomb-laden car via remote control. The housing complex was severely damaged," Tuna said.
The child who died in the blast was the son of a court clerk, Tuna said, adding that none of the injured are in critical condition, and are being treated at local hospitals.
No group has yet claimed responsibility for the blast. Turkey has endured a string of terror attacks since 2015, carried out by both Islamic State (IS, formerly ISIS/ISIL) terrorists and Kurdish militants.
One of the deadliest attacks claimed by Islamists, dates back to June 28, 2016, when attackers launched a gun and bomb attack at Istanbul's Ataturk Airport. At least 45 people were killed and some 230 injured in the massacre perpetrated by three assailants who were killed in the process. Turkish officials said the assault was masterminded by Islamic State.
Friday's attack also comes after 39 people were shot dead on New Year's Eve at a nightclub in Istanbul. Islamic State has claimed responsibility for that slaughter.
In addition to the jihadists, Ankara is also fighting the Kurdistan Workers' Party (PKK), which it considers to be a terrorist organization. Since the beginning of a crackdown in Southeastern Turkey in July of 2015 against the PKK, pressure on the group in Kurdish-dominated provinces intensified following a failed coup attempt against President Recep Tayyip Erdogan last summer.