'Freedom! Victory!' 500 African migrants celebrate after breaking through EU border fence (VIDEO)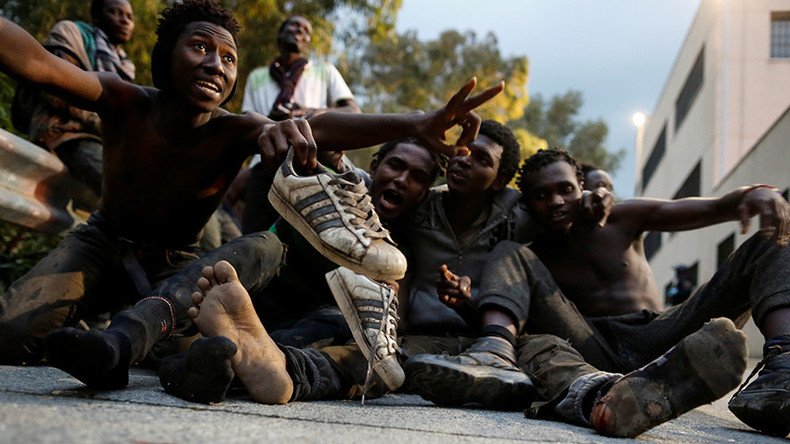 Hundreds of migrants are being given food and first aid by Spanish authorities and charities after storming and climbing over a six-meter barbed-wire fence to enter Ceuta, Spain's enclave in North Africa, bordering Morocco.
Early on Friday morning, Ruptly news agency captured footage groups of ebullient males of apparent sub-Saharan origin, hugging and dancing, and encouraging fellow migrants stuck on the other side of the barrier. Many wrapped themselves in Spanish and EU flags, and chanted "Freedom!" "Victory!" and "Viva España!"
Hours earlier, the same men used shears and clubs in a mass raid on the reinforced border fence. Local media reports suggest that the breach was organized well in advance, and occurred at four different points. As many as 300 were pushed back, but border guards were overwhelmed by the sheer numbers, and police said that security cameras showed up to 600 men entering Ceuta, though emergency services put the number at 500. Eleven officers were injured, and three had to be taken to the medical emergency ward in serious condition. No one has been arrested.
As the sun rose over the enclave, which is home to about 80,000 people, most of the migrants camped in a group by the roadside, where the Red Cross said it was treating 400 men, many of whom suffered gashes and cuts during the storm. Twenty-five have been transferred to Ceuta's hospital.
All newcomers will be housed by CETI, a 512-capacity temporary migrant center, which was already home to 620 people who had mostly arrived in the city without documents, either by climbing over the fence, hiding inside a vehicle, or swimming into the port.
The migrants will now be given regular meals, a bed, counselling, and Spanish lessons, as they file their applications for asylum. Many will be relocated to other similar centers on the mainland.
This is the third such attack since December, when the multiple entry-point tactic was first used by migrants. On January 1, 1,100 people attempted to breach the walls, overfilling CETI, which had to borrow army tents to accommodate the newcomers.
Spain's State Security Secretary promised to develop a new protocol against the evidently successful tactic, but Frontex, the European border service, said that overall, only 1,000 people breached Ceuta, and Melilla, another enclave, in 2016, the lowest number in several years.
You can share this story on social media: