Alps could lose over 70% of snow by end of century – study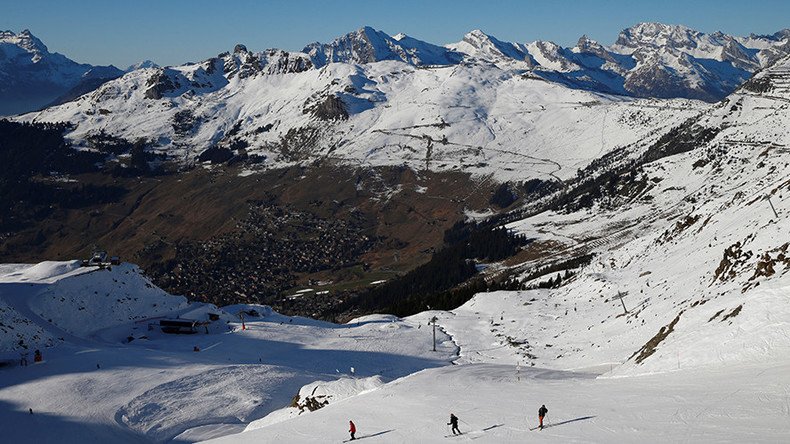 Hitting the slopes of the Alps for a ski holiday may become a thing of the past, according to a new study. The research estimates the mountain range could lose as much as 70 percent of its snow cover by the end of the century.
The study, conducted by researchers from the Institute for Snow and Avalanche Research (SLF) and the École Polytechnique Fédérale (EPFL) Lausanne, predicts that the amount and duration of snow cover in the Alps will have significantly shrunk by the year 2100, even in the best-case climate scenarios.
"Bare Alpine slopes could be a much more common sight in the future," the European Geosciences Union (EGU), which published the study in its Cryosphere journal on Thursday, wrote in a statement.
If nothing is done to improve the current climate change situation, 70 percent of snow cover will be gone by that time. And even if humans manage to keep global warming to 2 degrees above pre-industrial levels – as agreed at the 2015 international climate change conference in Paris – 30 percent of the snow will melt away.
The researchers also noted that snow covering the Alps will get less deep "for all elevations, time periods, and emission scenarios."
"The most affected elevation zone for climate change is located below 1,200 meters, where the simulations show almost no continuous snow cover towards the end of the century," they wrote in the paper.
In order to reach their conclusions, the researchers simulated future snow cover in the Alps for various temperature and snowfall projections.
"We used meteorological data and many different climate change scenarios to model the future snow cover in two Alpine catchments with ALPINE3D," study co-author Sebastian Schlögl from the SLF said in the EGU statement. ALPINE3D is a computer model designed to simulate snow distribution.
The researchers also stated that the duration of the ski season will shorten as a result of the loss of snow, as about one-quarter of ski resorts in the Alps are located at altitudes below 1,200 meters, according to the skiresort.info website.
"If we don't cut emissions, enough snow for winter sports can only be guaranteed above 2,500 meters," said the statement.
However, ski resorts at higher altitudes could also see huge reductions in snow if the global warming limit isn't observed. Above 3,000 meters, snow depth could decrease by some 40 percent.
In addition, winter sports could potentially be forced to begin up to a month later than they do today, if global warming patterns remain unchanged.
And it won't just be skiers and snowboarders that will feel the effect, but the Alpine tourism industry as a whole, Schlögl said.
"Since many Alpine villages are heavily dependent on winter tourism, the economy and society of regions with such tourism centers will suffer," he said.
You can share this story on social media: