Car bomb kills at least 45 in Baghdad
Published time: 16 Feb, 2017 14:22
Edited time: 17 Feb, 2017 13:10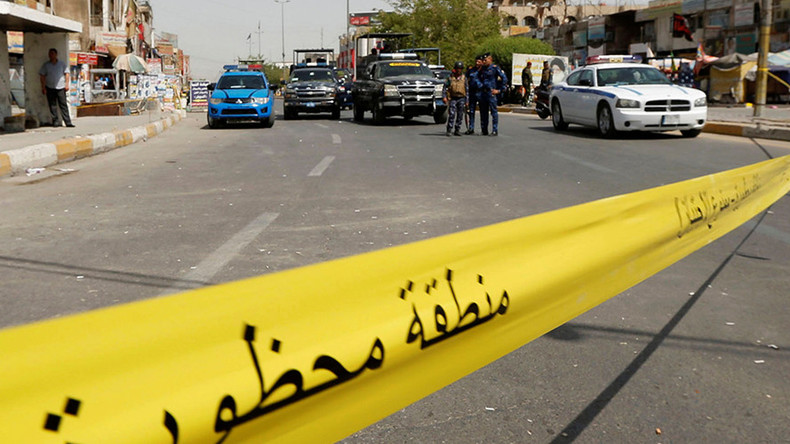 A third bomb in three days has rocked the Iraqi capital, Baghdad. The Iraqi police said at least 45 people were killed and 50 others injured by the blast claimed by the terrorist group Islamic State.
Ministry spokesman Brig. Gen. Saad Maan confirmed the toll from the attack, but medical sources put it higher, with Reuters reporting 48 killed and 55 injured by the blast.
READ MORE: Dead & injured in protests near Baghdad 'Green Zone' (PHOTOS, VIDEO)
The attack took place in the southwestern al-Bayaa neighborhood of Baghdad, in a street used for the sale of used cars, which was packed with salesmen and customers at the time of the explosion.
The terrorist group Islamic State (IS, formerly ISIS/ISIL) claimed responsibility for the bombing through its news agency Amaq.
The bombing is the second to hit car markets this week, indicating that placing a car bomb among used cars is a viable strategy for terrorists. Earlier on Wednesday, a suicide bomber detonated a bomb in his car in the Sadr City suburb in the east of Baghdad, claiming at least 15 lives.
In another attack on Tuesday, a car bomb exploded in an industrial zone in the southern part of the city, killing four.
UN Special Envoy to Iraq, Ján Kubis condemned the wave of terror attacks.
"Yet again, the terrorists are continuing with their carnage against innocent civilians," Kubis said in a statement.
"This is totally unacceptable. The Iraqi people have shown their courage and determination in the fight against terrorism, and these desperate tactics by the terrorists will only increase the resolve of Iraqis, who want to live in peace and tranquility," he added.