Pope Francis: Indigenous peoples must give consent over activities affecting their lands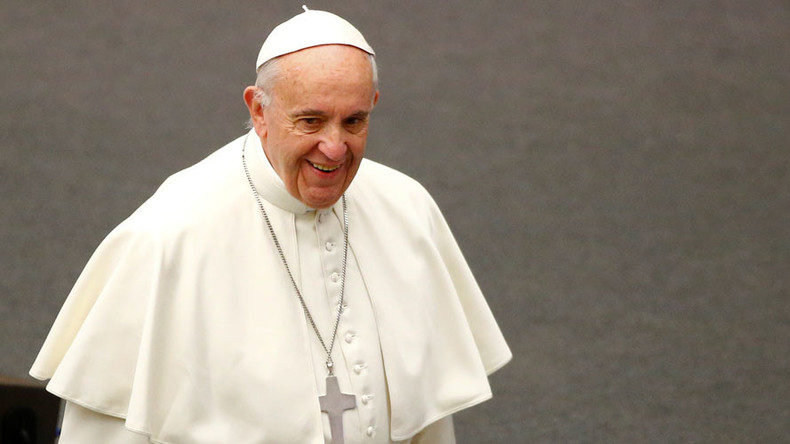 The pontiff has stated that indigenous groups must give consent for any activity affecting their lands. It comes after President Trump ordered the final construction of the Dakota Access Pipeline to be expedited, despite protests from Native Americans.
Pope Francis met with representatives of indigenous peoples attending a UN agricultural meeting on Wednesday, telling them that "the right to prior and informed consent should always prevail" when it comes to activities on indigenous lands.
"Only then is it possible to guarantee peaceful cooperation between governing authorities and indigenous peoples, overcoming confrontation and conflict," he added, as quoted by AP.
"For governments, this means recognizing that indigenous communities are a part of the population to be appreciated and consulted, and whose full participation should be promoted at the local and national level," Francis said.
His reference to prior consent is enshrined in a UN Declaration on the rights of indigenous peoples, which was adopted by the UN General Assembly in 2007, despite objections from the US, Canada, Australia, and New Zealand.
Although the pontiff did not directly address the Dakota Access Pipeline, and the Vatican press office said he was not making a direct reference to it, his comments do coincide with lawsuits filed by the Cheyenne River and Standing Rock Sioux tribes to halt the project's construction.
The tribes, which argue the pipeline will threaten their water supply and destroy sacred historical sites, suffered defeat on Monday, when a US federal judge declined their request to halt construction of the pipeline.
The ruling allows the project to proceed while the tribe's lawsuits against the pipeline proceed.
US President Donald Trump signed an executive order in January for the pipeline's final phase of construction to be expedited, despite federal agencies under the Obama administration stating that they would not lay pipe on the land until an environmental study was done.
Protests against the pipeline began in April 2016, many of which resulted in allegations of police brutality against peaceful protesters. Around 700 people were arrested during clashes between demonstrators and law enforcement.