Raging New Zealand wildfires leave 1 dead, force 400 to evacuate (VIDEOS, PHOTOS)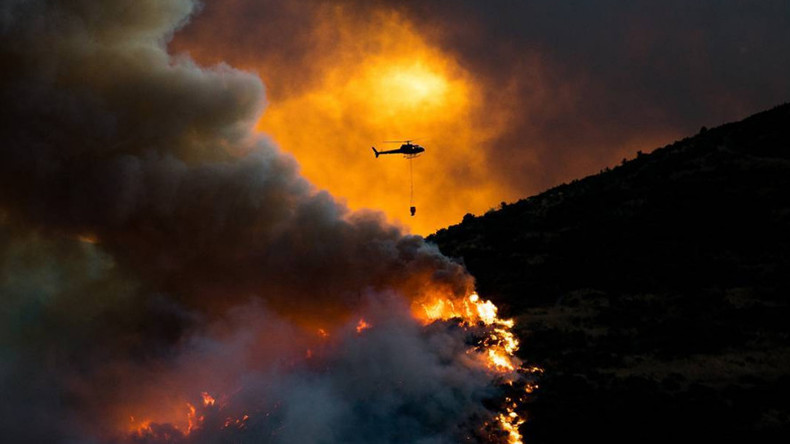 One person has been killed and hundreds evacuated from their homes in Christchurch, New Zealand as firefighters battle an enormous fire burning across a 1,655 hectare area (4,090 acres) of Port Hills.
Up to 400 people have been evacuated from their homes by emergency services with many more choosing to leave. The Civil Defence initially reported that 40 homes had been destroyed but later revised that number down to two or three.
Helicopters and planes, which were helping to tackle the blaze, have been stood down for the night, but fire crews on the ground continue their efforts to bring the inferno under control.
Douglas Marshall, Principal Rural Fire Officer from the district of Selwyn, told the New Zealand Herald that the fire is no longer contained.
He said authorities are looking at a national coordination effort to bring in more firefighting resources: "We're really struggling at the moment without the helicopters – it's too dangerous at night for those, we are trying to do any structure protection we can but that's got to be balanced between lives."
The blaze claimed a life on Tuesday when helicopter pilot David Steven Askin died while fighting the fire.
Askin was dumping water on the blaze when his helicopter went down and he died at the scene. Three investigations into the incident have been launched.
Police have also asked people to stop using drones to photograph the fire as it poses a "major safety risk to helicopters." However, they said that there was nothing to suggest a drone was involved in the fatal helicopter crash.
Christchurch Mayor Lianne Dalziel says a city response is required to ensure the safety and welfare of residents.
"Christchurch needs a multi-agency response given the seriousness of the situation. We need to be able to draw on all the resources possible to give our residents confidence in the ongoing response," Dalziel urged.
The Civil Defence are advising locals who have any concerns about their safety to leave their homes.
You can share this story on social media: