Female arrested in Malaysia over 'Kim Jong-nam murder' – police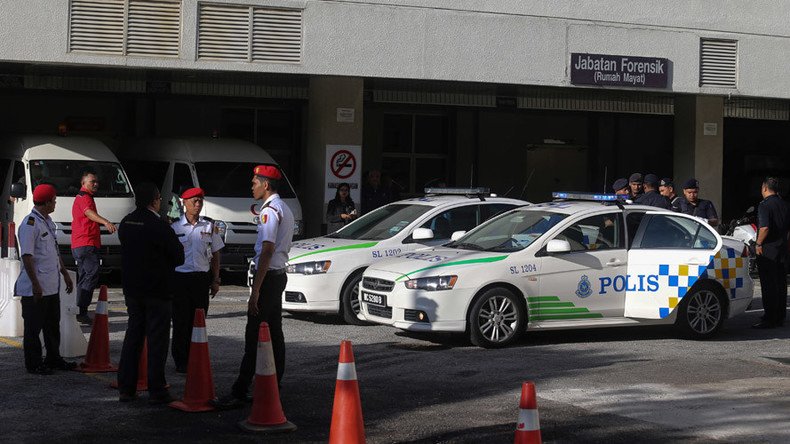 A woman has been arrested at Kuala Lumpur airport in connection with the death of the half-brother of North Korean leader Kim Jong-un, according to Malaysian police.
The woman, who was in possession of a Vietnamese travel document with the name Doan Thi Huong, was alone at the time of her arrest.
The "suspect was positively identified from the CCTV footage at the airport and was alone at the time of arrest," police said in a statement.
Police say they are looking for "a few" other suspects in connection with the death.
Meanwhile, North Korean government officials in Malaysia have objected to an autopsy being performed on Kim, according to Malaysian government sources cited by Reuters.
Pyongyang instead requested that the body be released to North Korean officials right away. However, that request was rejected by Malaysia, several sources said. They added that no decision has been taken on whether the body will ultimately be handed over to North Korea.
Authorities confirmed on Tuesday that Kim Jong-nam had died after falling ill at Kuala Lumpur International Airport (KLIA).
"The deceased... felt like someone grabbed or held his face from behind," the senior assistant commissioner of the Malaysian Police Criminal Investigation Department, Fadzil Ahmat, said, adding "he felt dizzy, so he asked for help at the... counter of KLIA."
A receptionist at the airport also stated that someone had grabbed Kim's face, according to Fadzil.
However, South Korea's TV Chosun reported that two women believed to be North Korean operatives poisoned Kim with a needle, citing multiple South Korean government sources.
READ MORE: Half-brother of N. Korean leader reportedly killed in Malaysia
On Wednesday, local media reported that CCTV cameras at the airport had captured a clearer image of a woman allegedly connected with the murder. She appeared to be middle-aged and of Asian descent.
In the image posted online by The Straits Times, she can be seen wearing a top with the word "LOL" in large letters and a short blue skirt. Her right hand is placed over a small handbag.
A previous CCTV image showed a picture of a woman believed to be the same person, but taken at a greater distance and from a different angle.
South Korea also confirmed on Wednesday that the murdered man was indeed Kim Jong-nam, Channel News Asia reported.
"Our government is certain that the murdered man is Kim Jong Nam," said Chung Joon-Hee, a spokesman for Seoul's unification ministry, which handles inter-Korea affairs.
Seoul claims that Pyongyang had been planning to kill the North Korean leader's half-brother for the past five years.
"If the murder of Kim Jong Nam was confirmed to be committed by the North Korean regime, that would clearly depict the brutality and inhumanity of the Kim Jong Un regime," South Korean Prime Minister Hwang Kyo-ahn, the country's acting president, told a security council meeting on Wednesday.
You can share this story on social media: