German firm refuses key component for US grenade launcher over 1868 international law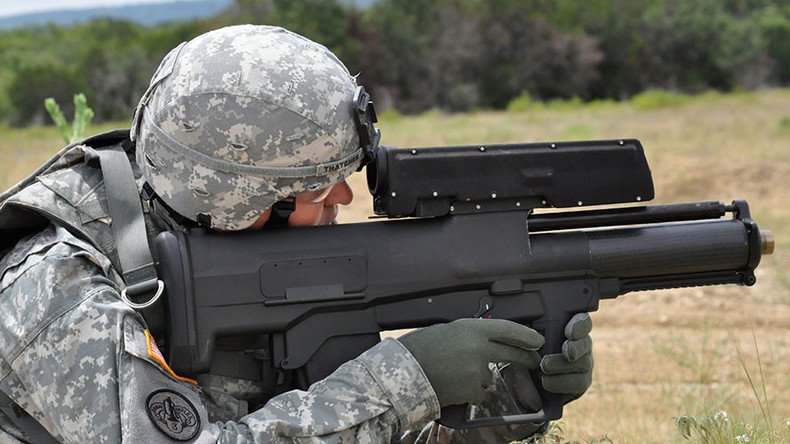 A German arms producer has refused to deliver key components for a new US grenade launcher, citing an 1868 convention prohibiting grenades being fired straight at a person. The German company is now facing penalties.
Mass production of the US, state-of-the-art, shoulder-fired grenade launcher XM25 has stalled since German company Heckler & Koch (H&K) has refused to deliver a key detail, fearing the weapon would hit people directly in violation of the 19th century international treaty, DPA reported.
READ MORE: 'Punisher': Shoulder-fired grenade launcher XM 25 could transform US Army
Heckler & Koch is referring to 1868 St Petersburg international law convention that says grenades can't be fired directly at a person. According to the document, grenades may be thrown at a building or near a person, but not straight at them.
The German company has already received €33 million (more than $35 million) for the services it failed to provide, according to ATK group. The Germans did deliver the launching mechanisms in question for the first test models, but the delivery didn't go further after that.
Twelve years devoted to the development of the XM25 Counter-Defilade Target Engagement System (CTDE) may result in nothing and now the US Orbital ATK group, the producer of the XM25, filed a lawsuit early February, going after €23 million in damages.
For now, the German company is demanding a declaration from ATK that would guarantee they would follow the international rule.
However, the US wasn't a party to the 1868 convention and thus doesn't find itself legally obliged to obey the rules listed there.
The rule, however, is "generally accepted," and the US is not an exception, head of Heckler & Koch Norbert Scheuch stressed, Germany's N-TV reported.
"I need legal certainty about the delivery, I don't have it now. It's not that we do not want to deliver, but we can't deliver," he added.
ATK Orbital responded by saying: "H&K is looking for excuses for its failure."
The company had already delivered components for some prototypes, but "all of a sudden" started to talk about the convention only now.
The CTDE, a semi-automatic grenade launcher that fires grenades set to explode in mid-air or near a target, targeting enemies with shrapnel, was supposed to revolutionize the US army, its manufacturers said last year.
There has been high expectation for the grenade launcher that is reportedly capable of shooting around the corner.
The US Army called the XM25 a "number one materiel solution to mitigate a critical capability gap" for dismounted soldiers. The first production batch was supposed to include 105 launchers.
You can share this story on social media: