'Hope they didn't twist reality' – Russian man whose loss inspired US movie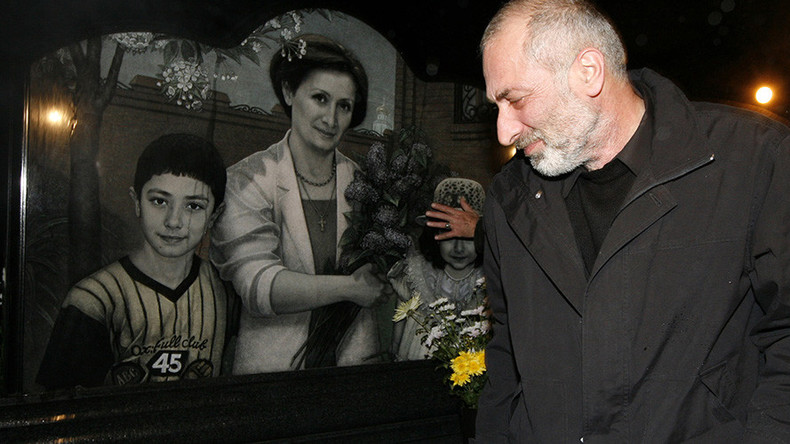 A Russian who lost his family in a midair collision and later murdered the air traffic controller he thought responsible says the makers of a new Hollywood movie based on his life story didn't contact him for details and fears they've altered the facts.
Vitaly Kaloyev, a Russian architect from North Ossetia, lost his wife and two children in July of 2002 when Bashkirian Airlines Flight 2937 and a Boeing 757 cargo jet collided in midair over Lake Constance (Bodensee) in southern Germany.
The two crew members on the Boeing 757 and all 69 passengers and crew aboard Bashkirian Airlines' Tu-154, including a large group of Russian schoolchildren on a holiday trip to Spain, died in the crash.
Some two years later, Kaloyev murdered Peter Nielsen, the air traffic controller who was on duty at the time of the collision, on his front steps.
Kaloyev's story inspired Hollywood director Elliott Lester and writer Javier Gullón to film a motion picture called Aftermath, which is due to be released on April 7, starring Arnold Schwarzenegger as Kaloyev.
While he is not opposed to the film, Vitaly says its makers, who claim the movie is based on real events, failed to contact or even notify him regarding the upcoming movie.
"The filmmakers did not contact me and did not consult with me. I have no idea what the movie is about," Kaloyev told TASS, noting that he is not against such movies in principle, but thinks filmmakers should remain true to the facts.
"I am generally not against the film, it will perpetuate the memory of my children and wife. It does not matter to me how Arnold Schwarzenegger plays, either," Kaloyev said in an interview with Komsomolskaya Pravda.
"What is important is that the story appears to be much changed in comparison with the reality. This fact disturbs me. The Hollywood drama shows that, by killing the air traffic controller Peter Nielsen, I merely made one step ahead of justice, which was about to punish those responsible for the deaths in the collision. But the fact is, the European law enforcement agencies did not intend to punish Nielsen at all," he said.
The tragedy had, in fact, been followed by long investigations, which proved that a Swiss-based air traffic controller Skyguide was to blame for neglect, human errors, and technical mishaps, which ultimately led to the collision. At some point, Skyguide tried to put the blame on the pilots and was rather slow in taking responsibility and offering an apology, which outraged the relatives of the victims.
North Ossetian Senator Taimuraz Mamsurov told TASS that a movie based on this tragedy should have been made earlier, echoing Kaloyev in complaining that the European authorities had failed to conduct a truly thorough investigation into the crash.
"There was no investigation. The [European officials] just said that they had paid compensation to each of the victims' families, they told us to go back to Russia, bury the remains and go our separate ways," Mamsurov stated.
In 2007, after five whole years had gone by, a court found four Skyguide employees guilty of negligent homicide. Three were handed suspended 12-month prison sentences, while the fourth was fined. Four others were acquitted. All eight defendants – middle managers, an air traffic controller, and four technicians – denied any wrongdoing.
The court said that the collision could have been avoided if two controllers had been on duty at the time. Nielsen was the only air traffic controller present and some of the defendants blamed him for not following procedures. However, prosecutors said a general culture of negligence at Skyguide had contributed to the accident, maintaining that the crash had not been solely Nielsen's fault.
In October of 2005, a Swiss court convicted Kaloyev for Nielsen's murder and sentenced him to eight years in prison. However, he was released from prison for exemplary behavior only two years later and returned to his home city of Vladikavkaz, where he was hailed as a hero.
His "revenge" is seen by many as an act of justice that the law failed to perform, as the public laid the blame squarely on Peter Nielsen, whose failure cost so many lives
Following his return, Kaloyev, who still lives in Vladikavkaz, was appointed as North Ossetia's deputy minister of architecture and construction. He retired one year ago.
He says that he plans to see Aftermath to form his own opinion of the film, hoping that his story will be a lesson to the younger generation, although what type of lesson he did not say.
"I will make sure to see this film. Such movies, based on real events, [must] be filmed… I believe that young people will draw some valuable instructive conclusions from this movie. I only hope that the [filmmakers] did not distort or twist reality," Kaloyev told the press.
In earlier interviews, he said he has no regrets about committing the murder. However, he has also repeatedly said that he has gained no relief from it either.
You can share this story on social media: