Polish prime minister in hospital after car accident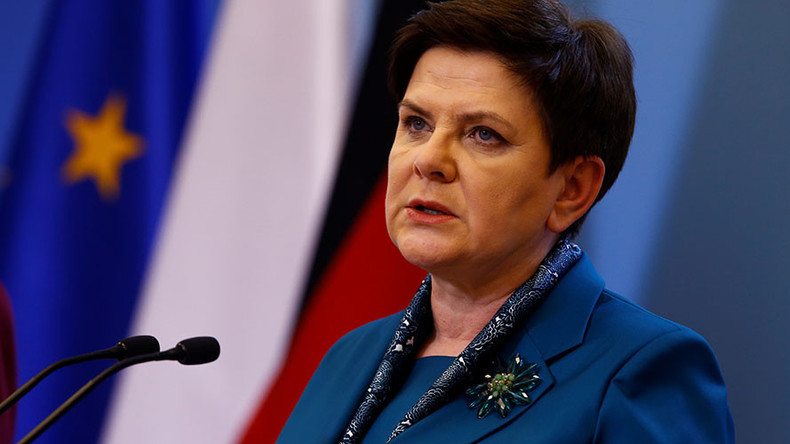 Polish Prime Minister Beata Szydlo has been taken to hospital after a car accident, according to a government spokesperson.
The prime minister was flown to Warsaw to "undergo addition routine checks," according to her spokesman Rafal Bochenek. While Bochenek assured the public that Szydlo is "in good condition," Jaroslaw Kaczynski, head of ruling Law and Justice party, claimed that the PM was "seriously hurt."
"We are with you, Beata," Kaczynski said, as he was addressing his supporters on Friday.
The car accident reportedly happened near the Polish city of Krakow.
Local media later said that the incident had happened in the area of Oswiecim in southern Poland, which is widely known as the area of the former Nazi concentration camp at Auschwitz.
Apart from Szydlo, two Polish security officers, including the driver, suffered injuries as result of the incident and have been receiving hospital treatment.
The official said Szydlo suffered bruising. "Fortunately, nothing serious happened to the prime minister," Reuters quoted him as adding.
Police reported that a car that smashed into Limousine, carrying Szydlo, was a Fiat operated by a 21-year-old man. The man, who is said to be sober during the incident, has also been injured and transferred to a hospital.
While police have been treating the crash as a traffic accident, not an attack, the regularity with which similar accidents happen to Poland's top figures has raised concerns in the security community.
Roman Poltko, former head of Polish special forces, blamed the incident on apparent negligence by the GPO, adding that the authorities appear to be "playing down" the "very serious accident."
"The Government Protection Bureau is expected to predict such situations," he stressed, as cited by Reuters.
The prime minister was recently involved in another car incident. While Szydlo was visiting Israel in November, vehicles in her motorcade collided, leaving two people injured. The minister herself was not hurt on that occasion.
You can share this story on social media: