'Russian troops' in E. Ukraine no obstacle for local election – German ambassador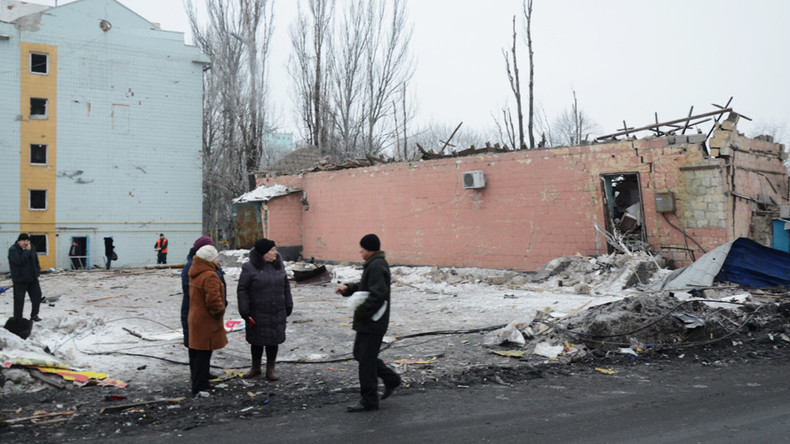 Local elections in Donbass may be held despite Kiev's intent to "raise Ukrainian flags at each city council" and the "Russian presence" in the region, Germany's ambassador said, triggering outrage and a reprimand from Ukraine's Foreign Ministry.
Ernst Reichel, a long-serving career diplomat, made the remarkable statement in a comprehensive interview with RBC Ukraine on Tuesday.
Holding local elections in the eastern region of Donbass is one of the core provisions in the Minsk Agreement, facilitated in 2015 by France, Germany, Russia and Ukraine to bring peace and political transition to the self-proclaimed regions of Donetsk and Lugansk (Donbass collectively) in eastern Ukraine.
While Moscow maintains that free and fair electoral procedures as well as providing ensured security for all candidates is imperative, Kiev insists that establishing full control over the regions and their borders with Russia should come first.
The issue of local elections has also become the subject of political tensions in Ukraine, with ultranationalist factions and paramilitary neo-Nazi groups threatening to oust President Petro Poroshenko if the vote takes place.
"Any Ukrainian politician must be able to pursue his election campaign without fear. And if it is not possible, then such an election cannot meet the standards," Reichel said.
"But this does not necessarily mean the elections in Donbass can only take place when there are no Russian troops, or when the Ukrainian flag is raised at each city council."
Kiev has consistently accused Moscow of sending weapons and troops into the rebel-controlled territories. However, no hard evidence of these claims has ever been presented and Russia continues to deny the accusations.
As a role model for Donbass, Reichel cited the East German general election of 1990 during the Soviet military presence in the former country and "under the communist regime of the German Democratic Republic." He added, however, that "I'm not arguing the situation in Donbass is identical."
When asked to address the current state of the Minsk accords, he suggested that Kiev be more flexible in direct talks to Moscow.
The Minsk process is "when you're giving something and getting something in exchange," the ambassador went on, adding, "Ukraine cannot secure 100 percent of national interests by means of its ideas on resolving the conflict, because you need to talk further actions with Russia."
Ukraine ceasefire violations reach thousands, inflict severe suffering on civilians – OSCE monitor

Ukraine's Foreign Minister summoned Reichel for a consultation shortly after the interview was published.
"The German ambassador was invited to the Ukrainian Foreign Ministry to provide an explanation of his statements made in an interview with the RBC-Ukraine publication," the ministry told Interfax Ukraine later on Tuesday.
The ambassador's remarks also triggered outrage in Verkhovna Rada, the Ukrainian parliament. Some MPs accused him of siding with "Russian President Vladimir Putin's course."
According to Interfax, lawmakers also demanded that Reichel be sent home, vowing to boycott celebrations to mark the 25th anniversary of Germany-Ukraine diplomatic relations.
You can share this story on social media: