US Navy base in Bahrain would be 'razed to ground' by retaliatory Iranian missiles - MP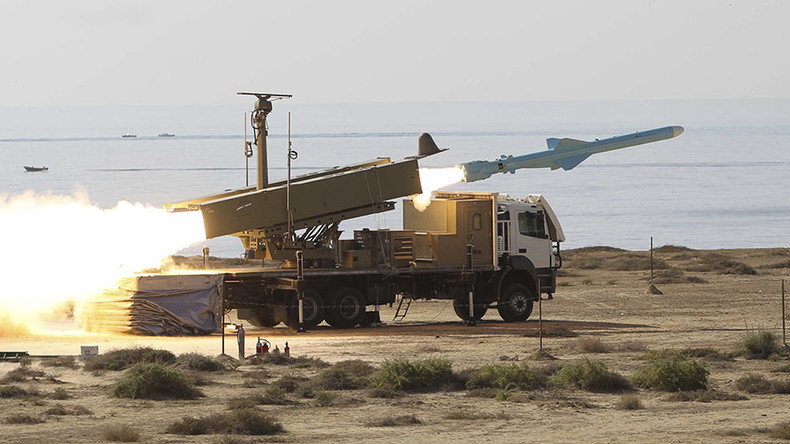 If Iran were attacked, it would retaliate against the US Navy base in Bahrain as well as Israel, a senior Iranian MP warned. It comes amid an escalation of tensions between Washington and Tehran over new anti-Iranian sanctions imposed by the US.
"The US Army's [sic] Fifth Fleet has occupied a part of Bahrain, and the enemy's farthest military base is in the Indian Ocean, but these points are all within the range of Iran's missile systems and they will be razed to the ground if the enemy makes a mistake," Mojtaba Zonour, a member of the National Security and Foreign Policy Commission of the Iranian parliament, said on Saturday evening as cited by the semi-state news agency FARS.
Zonour, a former senior figure in the Islamic Revolution Guards Corps, added that Iranian missiles would also attack Israel in case of an open war.
"Only seven minutes is needed for the Iranian missile to hit Tel Aviv," he said.
The belligerent rhetoric comes after a heated exchange of hostile gestures by Washington and Tehran last week. On Friday, the Trump administration slapped sanctions on 25 individuals and entities allegedly involved in Iranian ballistic missile development.
The move is viewed by many observers as an opening salvo in an expected anti-Iranian campaign by US President Donald Trump, who said Iran was "playing with fire" by testing their missiles and had been "put on notice" by the White House.
Iran has been formally PUT ON NOTICE for firing a ballistic missile.Should have been thankful for the terrible deal the U.S. made with them!

— Donald J. Trump (@realDonaldTrump) February 2, 2017
The Iranian government responded with defiance, with Foreign Minister Javad Zarif stating that his country's was "unmoved by threats" from Washington. The Iranian military conducted as planned military exercise in the Semnan Province on Saturday, testing its new radar and missile capabilities.
On Sunday, Trump upped the ante, calling Iran the "number one terrorist state" in an interview with Fox News. The designation followed a similar comment by his Pentagon chief James Mattis. The US president also reiterated his criticism of a nuclear deal with Iran, but would not go as far as pledging to scrap it.
READ MORE: Iran is biggest state sponsor of terrorism – Pentagon chief Mattis

Trump was among Republican critics of the Obama administration's willingness to negotiate the deal with Iran, which lifted economic sanctions in exchange for placing restrictions on Iranian nuclear industry aimed at preventing its capability to create a nuclear weapon.
The 2015 agreement was sponsored by world leading powers hailed internationally as a breakthrough. Israel's government repeatedly criticized it, calling it a "bad deal," but failed to derail it.
You can share this story on social media: