Trump doesn't seem to want another Libya in Syria – Lavrov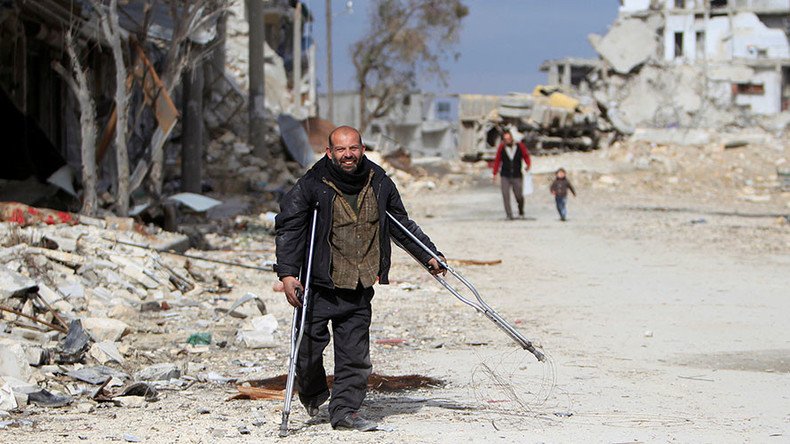 US President Donald Trump doesn't seem to want to repeat the Libyan scenario in Syria when he proposes setting up 'safe zones' in the war-stricken country, Russian Foreign Minister Sergey Lavrov said, adding that the Libyan case had been "tragic."
"We understand that Donald Trump's administration is yet to specify its approach [on Syrian 'safe zones']," Lavrov said at the Fourth Session of the Arab-Russian Cooperation Forum in Abu Dhabi, United Arab Emirates.
Russia's foreign minister said the idea of 'safe zones' had been discussed at the early stages of the Syrian crisis when negotiators proposed following the "tragic" Libyan scenario.
"[They] established such a 'safe zone' in Benghazi area, where anti-government forces were stationed, some kind of alternative government was established [there]," he said.
He pointed out that "NATO came to help that government and [then] in flagrant violation of the Security Council resolution, overthrew the regime of Muammar Gaddafi."
The foreign minister said that Russia was ready to discuss 'safe zones' in Syria with the new US administration.
"As soon as the State Department leadership is completely formed, I am convinced that we will get in contact and establish a full-blown regular dialogue," Lavrov said.
Lavrov proposed re-including the official Syrian government in the Arab League as a way of solving the crisis. The country was suspended from the group back in September of 2011, months after the bloody conflict broke out.
"The fact that the Syrian government, a legitimate member of the UN, can't take part in the discussions in the Arab League, doesn't help in the pursuit of this [negotiation] process," he said. Lavrov noted that, while there have been different types of contact between Syria and various international organizations and bodies, which Russia welcomes, "I believe that the Arab League could play a more important, a more effective role, if the Syrian government were part of this organization."
Trump said earlier in January that he wants to establish 'safe zones' within Syria for people fleeing terrorism. While the president did not give any details, he explained his reasoning with a nod towards Europe, which he said has made a mistake by letting asylum seekers in from the Middle East.
Trump's plan is part of his general directive on immigration, which includes a temporary 90-day ban on most refugees and the suspension of US visas for citizens of Syria, Iran, Iraq, Libya, Somalia, Sudan, and Yemen – the Middle Eastern and African countries where Islamic terrorism is most common.
Lavrov has voiced cautious support for Trumps' proposed 'safe zones', saying the initiative is completely different from that which Western countries have proposed at various stages of the Syrian war. However, he insisted that the plan would require close cooperation with the UN and approval from Syrian President Bashar Assad's government.
You can share this story on social media: