Over 1,000 police officers in central Germany foil 'Islamist network' in massive anti-terror raid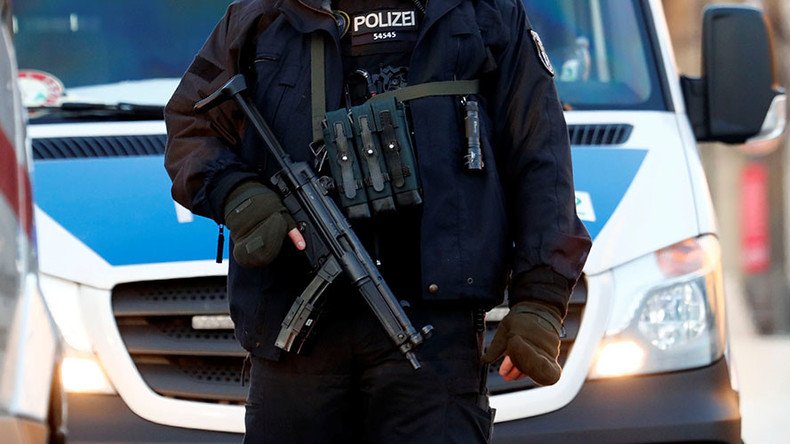 Some 1,100 German police officers conducted surprise raids on 54 flats, mosques, and industrial facilities in a large-scale operation that nabbed 16 terrorist suspects on Wednesday, including a recruiter and human trafficker linked to Islamic State.
Today's operation in the central German state of Hesse followed a separate night raid in Berlin on Tuesday that led to the detention of three suspects with alleged links to Islamic State (IS, formerly ISIS/ISIL), local media reports.
Sixteen suspects from 16 to 46 years old were detained in several cities, including Frankfurt, Offenbach, and Darmstadt. They are being investigation for having possible links to Islamic State, according to Bild.
READ MORE: 3 terrorism suspects arrested after mosque raid in Berlin

All of the suspects were part of a "widespread Salafist network" said to have been planning a terror attack, according to Hesse's interior minister, Peter Beuth.
A 36-year-old Tunisian citizen suspected of being the network's leader was also arrested. According to police authorities, the man has been under intense scrutiny since August of 2015, as he is suspected of being a recruiter and human trafficker for Islamic State.
The raids are meant to send "a clear message to the radical Islamists in Hesse… that we are keeping an eye on the [Islamist] scene," Beuth said.
This week's anti-terrorism operation comes not long after security lapses were exposed following an attack in December, when a Tunisian national rammed a heavy truck into a crowd at a Berlin Christmas market, killing 12 people and injuring 49.
German police and security agencies came under intense criticism when it emerged that, although the suspect, a Tunisian citizen named Anis Amri, had been under police surveillance for several months, nothing had been done to stop him due to bureaucratic hurdles and a lack of intelligence sharing between regional and federal authorities.
Germany, and Europe as a whole, has seen a surge in terrorist attacks related to radical Islamism since its ongoing migrant crisis began. Earlier in 2016, the EU's police agency, Europol, warned of the risk of lone-wolf terrorists carrying out devastating attacks targeting transport infrastructure.
You can share this story on social media: