Fire breaks out in former school turned refugee center in Berlin (VIDEO)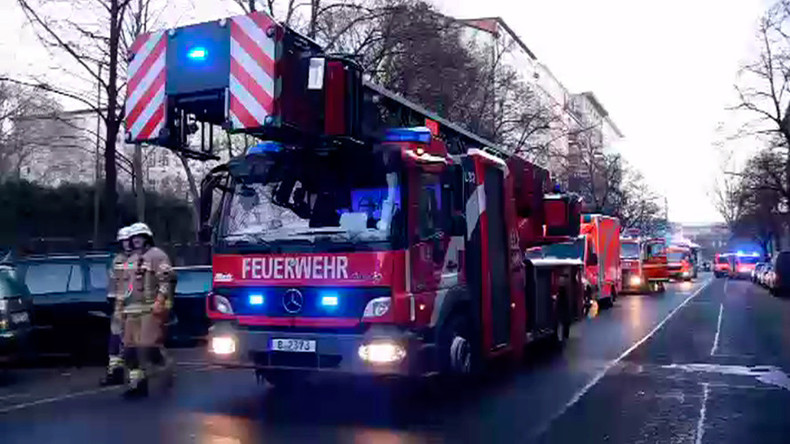 At least one person was injured in a fire at a former school building used as a refugee shelter in central Berlin. The blaze has been extinguished by firefighters, and an investigation is due to begin on Monday.
The fire broke out on the second floor of the building located in the Kreuzberg district in central Berlin early morning on Sunday, local media reported. The local fire department received the distress call about 06:50 (local time) (05:50 GMT), according to the Berliner Morgenpost.
Six fire brigades and 50 firefighters were dispatched to the scene, according to German media. The blaze spread to the third floor before being extinguished.
All the refugees at the shelter were evacuated and none of them were injured. However, one female shelter security officer, who helped with the evacuation, was later taken to hospital suffering from carbon monoxide poisoning, according to the Berliner Morgenpost.
Two apartments in the shelter were destroyed by the blaze, BZ Berlin reports. The cause of the fire remains unknown and an investigation into the incident will start on Monday, a local official told BZ Berlin.
"Under ordinary circumstances, a fire cannot break out" in a place where it broke out in the former school building, a police official told BZ Berlin.
The building has been closed and cordoned off by police. Monika Herrmann, the head of the Friedrichshain-Kreuzberg municipality, said that the building will stay closed and all the refugees, who lived there, will be relocated to other shelters.
The former school building has been abandoned and then used as a shelter for refugees and homeless people since 2012. At one stage, up to 200 people lived in the abandoned building, but the numbers dwindled and only 20 refugees were there when the fire broke out.
You can share this story on social media: