11 dead as wildfires engulf Chilean countryside, foul play suspected (VIDEO)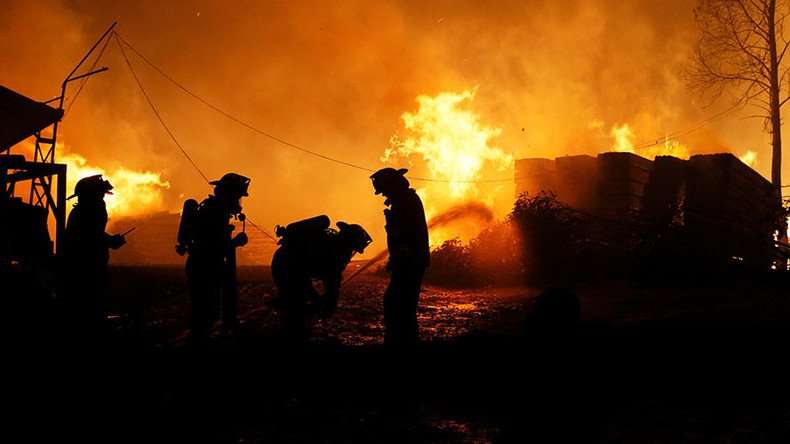 Chile's firefighters are battling to contain 60 infernos in what has been described by the country's president as the worst outbreak of wildfires in the history of the state. Eleven people have died, including five firefighters.
Fires continue to rage in 10 regions stretching almost the entire length of the country, leading to a state of emergency being declared.
An update posted by the Minister of the Interior and Public Security on Sunday says almost 3,000 people have been evacuated while 1,061 homes have been destroyed by the fires.
According to Chile's National Forestry Corporation (CONAF), which manages the country's forestland, 375,347 hectares of land have been affected by the wildfires which began to spread more than a week ago.
While Chile is no stranger to forest fires, CONAF has stated that the area affected is about seven times larger than the seasonal norm. NASA satellite images released on January 20 reveal thick columns of smoke rising from areas to the north and south of the capital Santiago.
In a series of messages on Twitter, Chile's president Michelle Bachelet expressed her condolences to the families of the deceased.
She also praised emergency personnel from Argentina, Spain, France, Portugal and Mexico for fighting the "most brutal" wildfires in the nation's history.
Among the regions classed as the worst affected are Valparaiso, Maule, Metropolitana, Bibio and Coquimbo. The government says that 7,000 people from the armed forces, emergency services, volunteer groups and state government have already been deployed alongside 244 heavy machines and 25 airborne units.
Nearly 5,000 people are without electricity, reports the Chilean Ministry of Energy, as a result of the outbreak.
Speaking to crowds in the Biobio Region on Saturday, Minister of Public Works Alberto Undurraga said the government's first priority was to battle fires near populated areas: "In these places our priority is to save lives, save homes, and in the same way, the various basic services of water, electricity and telecommunications."
The fires may have been started deliberately, Undurraga said. He pointed out that in some areas the pattern of fire movement did not tally with wind direction.
Undurraga has confirmed that several arrests have been made in connection with the blaze but has not provided any further details.
Major operations have taken place using a combination of military and civilian aircraft to douse the flames, he added. Images posted online by the Chilean navy show 'supertanker' aircraft dropping loads of water over burning vegetation.
Infrared cameras onboard the aircraft allow operators to see burning blazes through the clouds of rising smoke. The Russian government has also donated an Ilyushin II-76 plane to help combat the emergency.
You can share this story on social media: