Siberian man spends 45 days sculpting church out of snow (VIDEO)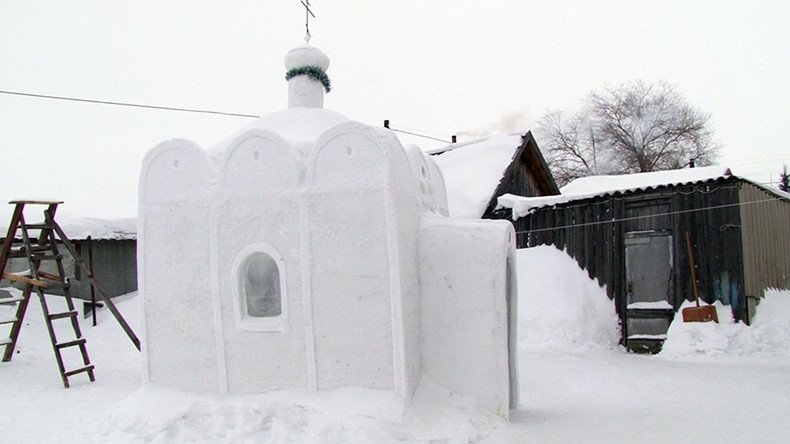 A man in a remote Siberian village has built a church in the Omsk region made completely out of snow. He spent 45 days carving out his nearly 10 foot- (3 meter-) tall masterpiece until he was blue in the face.
Aleksandr Bityokhin, a former construction worker, was burning the midnight oil building the chapel so that Orthodox believers in Sosnovka would have a church of their own, even if a temporary one.
The nearest church is in the city of Omsk, dozens of kilometers away from Sosnovka, and the elderly and children are simply unable to make the trip.
"He followed the voice of his heart," his mother Tatiana told Ruptly video agency. "He's a passionate believer and wants to pray in his church, but since we have no means to regularly go to town or nearby villages, he has decided to build a church here."
It took as much as 12 cubic meters of fresh white snow to construct the church from scratch, the first in the neighborhood.
"As soon as the first snow fell in Sosnovka, I prayed and got down to work," Aleksandr, 41, told Rossiyskaya Gazeta daily. "First I created a draft of the chapel. I decided it would have 12 arches, in honor of the twelve apostles. Then I began to press the snow, step by step laying the foundation and the walls of the church."
Luckily, there was no problem with construction material, says Aleksandr, who had to quit his regular job at a construction site after being diagnosed with a serious disease.
"The winter this year has been surprisingly snowy. Work got done with a swing. Sometimes, when the temperatures fell to more than 30 degrees below zero, I even forgot to go home to get warm and get some rest."
The hardest thing was to carve out the altar and dome with a wooden cross out of hard-packed snow.
Fellow villagers took Aleksandr by surprise by bringing beautiful icons to the new church.
"It's like a fairy tale!" Aleksandr's neighbor Galina said. "We've lived near-by for 25 years, but I never thought Sasha [Aleksandr] could create something like that. It's so beautiful! Well done! God, help him!"
WATCH MORE:
You can share this story on social media: