Turkey vows to cancel migrant deal if coup suspects not extradited from Greece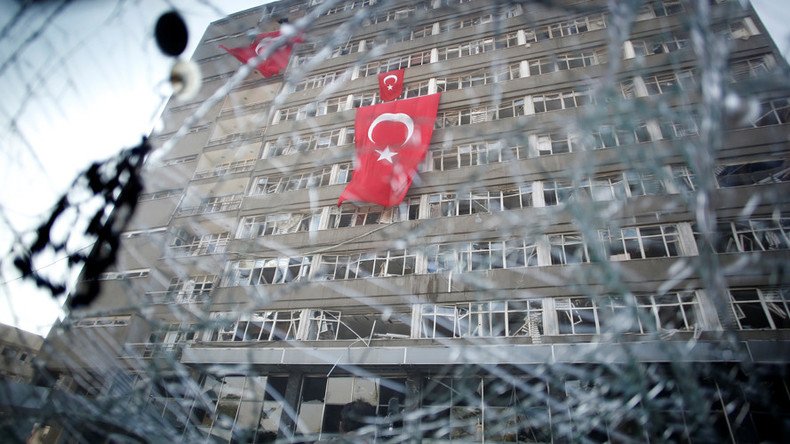 Greece's refusal to extradite eight soldiers accused of being involved in last year's coup attempt has angered the Turkish government, which has threaten to cancel a deal on readmitting migrants back to Turkey.
The soldiers – three majors, three captains and two sergeant majors – fled to Greece by helicopter in the aftermath of the failed coup attempt in July of 2016 and asked for political asylum, as they feared for their lives. All eight officers deny being involved in the coup, but Turkey has demanded that they be sent back home to face justice. However, on Thursday, the Greek Supreme Court ruled against the extradition, with presiding judge Giorgos Sakkas saying the men were unlikely to receive a fair trial in Turkey.
Ankara reacted to the decision with dismay, accusing Greece of complicity in terrorism.
"We protest this decision which prevents these individuals who have threatened the life of our president and took an active role in a coup attempt that killed 248 of our civilians and members of our security forces, wounded 2,193 of our citizens, and attempted to take the life of our President, to be brought before the independent Turkish judiciary," read a statement on the Turkish Foreign Ministry's website.
"This decision once more displayed that Greece, an ally and a neighboring country, is refraining from fulfilling the minimum requirements of combatting terrorism and crime," the statement continued, while accusing Greece of turning a blind eye to far-left and Kurdish militants operating in Turkey.
"We demanded that the eight soldiers be tried again. This is a political decision, Greece is protecting and hosting coup plotters," Turkish Foreign Minister Mevlut Cavusoglu told state broadcaster TRT Haber on Friday, adding that he was considering scrapping the migrant readmission deal between the two countries, without giving further details.
"We have a readmission agreement between us and Greece, with the European Union. We are going to take necessary steps, including the cancellation of this readmission agreement," he said.
The agreement signed by Davutoglu and Greek Prime Minister Alexis Tsipras in March of last year allows for asylum seekers who crossed into Greece illegally to be sent back to Turkey before being deported to their home countries. The readmission does not apply to asylum seekers who enjoy international protection, such as refugees fleeing warzones.
Another deal signed between Turkey and the EU gave Turkey financial aid and political concessions in return for its help in bringing the ongoing migrant crisis under control. Under that deal, Turkey would crack down on people smugglers taking migrants to Europe, and also take in one Syrian refugee for each one admitted into the EU. The agreement has successfully reduced the flow of asylum seekers into the EU, but many problems such as integration and squalid conditions at migrant camps remain.
Greece and Turkey have had a tumultuous relationship in the past, marred by events such as the Turkish intervention in Cyprus in 1974. Both countries are also NATO members, however, and there have been recent attempts to improve relations. Greek and Turkish diplomats are currently involved in peace talks aimed at ending the stalemate over still-divided Cyprus.
The Turkish government is now carrying out a purge of opposition figures, including teachers, journalists, and civil servants that are deemed sympathetic to Kurdish separatism and self-exiled cleric Fethullah Gulen, who Turkey accuses of masterminding the coup.
You can share this story on social media: