Doomsday Clock ticks closer to midnight, highest danger level since 1953 (VIDEO)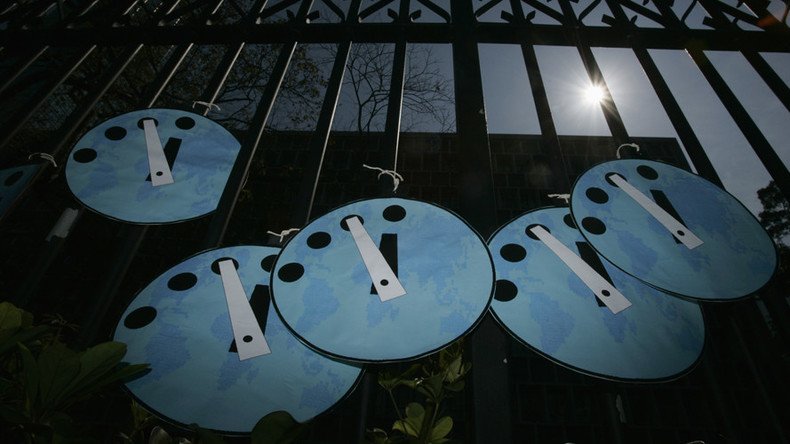 Scientists have moved the time of the Doomsday Clock counting down humanity's dying days closer to midnight, with the dials now set at two and a half minutes to 12am – the highest danger level facing the planet since 1953.
A global failure to fight climate change and concern over Donald Trump's cabinet picks were cited as reasons for the increased threat to the planet. The clock had been set at three minutes to midnight since 2015.
The threat posed to democracy by fake news and the influence exerted on elections were also cited as reasons for the new time, according to a panel of scientists involved in the process.
The appropriate symbolic time is deduced each year by The Bulletin of the Atomic Scientist. The new reading brings the threat closer to midnight than it's been since the height of the Cold War – when it reached 11:58pm.
Speaking at the announcement, theoretical physicist Lawrence Maxwell Krauss said, "US and Russian leaders need to come together to reduce nuclear arms" adding that "President Trump and President Vladimir Putin can act together as statesmen or act as petulant children dictating our future."
READ MORE: Doomsday countdown: Famous clock could herald Earth's dying days
When asked what was the single biggest factor in moving the hands forward, Professor of Meteorology David Titley said the dissemination of facts and science expressed through a "verbal looseness" was a particular threat.
Former US Ambassador to the UN Thomas Pickering said the team behind the change was equally concerned with today's situation as it was during the height of the Cold War. "It takes us back, comparatively, to an age of great uncertainty," he said.
Krauss warned of the economic impact of the US nuclear arsenal, saying Trump's proposed modernization could cost $1 trillion.
"It's a devastatingly large economic program that has limited rationality," Krauss said.
"The fact that we have a large fraction of our nuclear weapons on our high-alert status raises the possibility of an accidental nuclear war which has almost happened a number of times in its history."
You can share this story on social media: