Russia ribs UK over Trident scandal after 'ship of shame' comment about carrier 'Kuznetsov'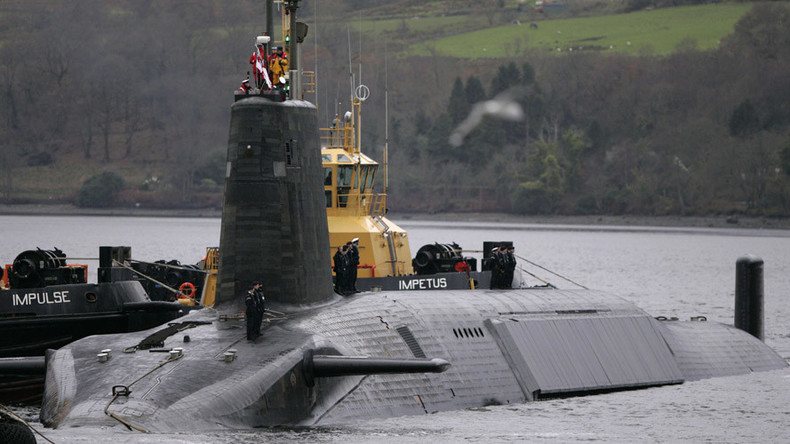 Russia's Defense Ministry has said UK defense officials were putting on a show by escorting the Russian aircraft carrier, the Admiral Kuznetsov, while pointing at their own issues in the Royal Navy, such as the infamous Trident situation.
"The aim of such statements and of staging a show by escorting our ships, is to distract the British taxpayers from the real state in which the Royal Navy is," Defense Minister Igor Konashenkov said.
"First, the Russian military fleet doesn't need senseless escort services – they know their navigating channel and course," the minister added.
"Second, we would recommend that [Defense Secretary Michael] Fallon pay more attention to the British Navy, all the more because there is every indication to believe he should do so," Konashenkov concluded.
The latest statement from Moscow comes after the UK's defense secretary called the Admiral Kuznetsov coming from Syria a "ship of shame," while emphasizing that British Royal Air Force Typhoon jets and a Royal Navy frigate had escorted Russia's only aircraft carrier.
The problem that the Russian Defense Ministry seemed to be referring to was a botched test-firing drill on a Trident nuclear submarine that declassified CIA documents revealed took place back in June, when a nuclear missile allegedly went off course near Florida and careened towards the US.
No news reports followed the test and the usual "successful test flight" statement was not made at that time. A navy source told the Sunday Times that "something went wrong" after the missile was fired.
Talking to the BBC on Sunday, UK premier Theresa May again refused to say whether she knew about the reported failure.
May didn't mention the failed test to the MPs last July, reportedly to make sure they would not reject spending £40 billion ($50.3bn) on new Trident submarines.
You can share this story on social media: