Syrian Islamist rebels band together to repel hard-line jihadist attacks – report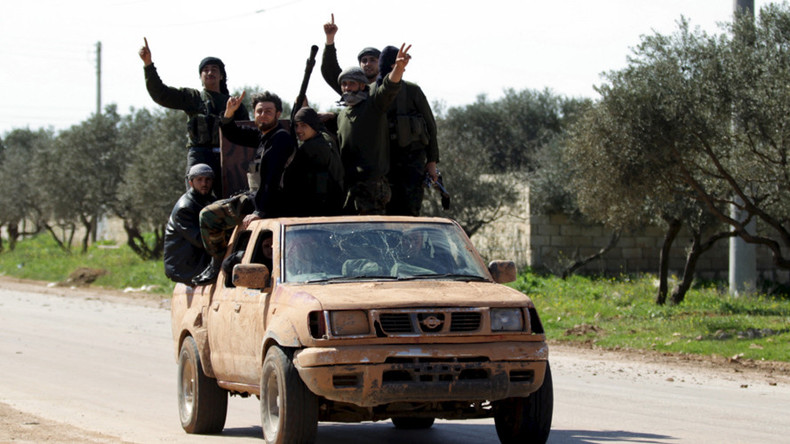 Infighting between various militant groups in Syria appears to have led to a new alliance. The Islamist group Ahrar Al-Sham says it has merged with six other rebel factions in the northwest of Syria, according to reports.
The merger aims to fight back against an assault on the groups by a larger, hard-line jihadist group, a statement cited by Reuters said, warning that any attack on its members would be tantamount to "a declaration of war."
Ahrar al-Sham is a conservative Sunni militant group, which last December joined the nationwide ceasefire between the opposition militants and the Syrian government. Five smaller rebel factions announced they had joined its ranks.
The factions that announced they are joining Ahrar al-Sham are Alwiyat Suqour al-Sham, Fastaqim, Jaish al-Mujahideen, the Idlib branch of Jaish al-Islam, and the west Aleppo branch of al-Jabha al-Shamiya, Reuters reports. Ahrar al-Sham's own statement, also cited by Reuters, includes the Sham Revolutionary Brigades.
All of the groups are affiliated with larger armed organizations fighting against Syrian President Bashar Assad, including the Free Syrian Army and the Syrian Revolutionary Command Council.
The attack that prompted the merger was allegedly carried out by Jabhat Fateh al-Sham, internationally-recognized terrorists, previously known as the Al-Qaeda affiliated Al-Nusra Front. They accused the smaller factions of "conspiring" against them at the recent peace talks in Astana, Kazakhstan, Reuters reports.
Ahrar al-Sham did not take part in the Russian-brokered talks, but backed the negotiations.
The discussions were held on January 23-24, with official representatives from Damascus, Russia, Iran and Turkey participating, as well as a delegation from the Syrian opposition.
After the talks, Russia, Turkey and Iran said that the Syrian opposition had agreed to take part in meetings scheduled to take place in Geneva on February 8.
Russian President Vladimir Putin expressed hope that the Astana negotiations could become "a good basis" for the reconciliation efforts in Geneva.
You can share this story on social media: