WikiLeaks editor Assange 'wants to engage' with US over Manning extradition promise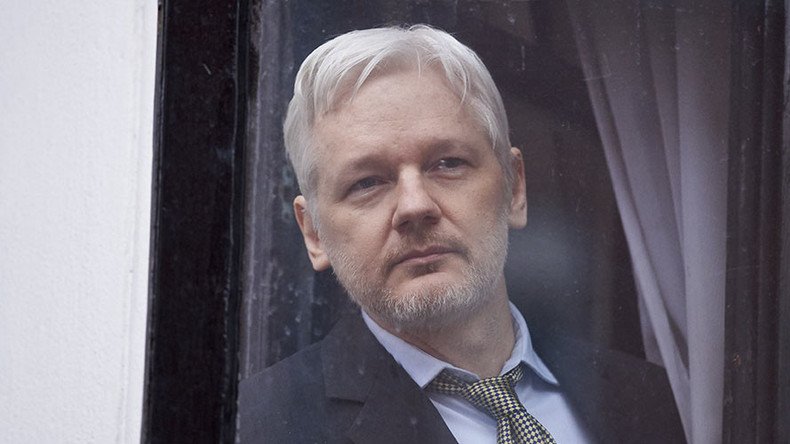 WikiLeaks co-founder Julian Assange has once again defended the promise to allow his extradition to the US if Chelsea Manning was granted clemency during a rare appearance on Australian television.
Assange was interviewed by Waleed Aly on Channel 10's 'The Project' on Tuesday, and fielded pointed questions suggesting he was lying by not handing himself over to US authorities following the "major strategic victory" which the commutation of Manning's sentence provided the whistleblowing organization.
Former US President Barack Obama announced last week he would commute Manning's 35-year sentence for leaking hundreds of thousands of documents revealing US war crimes and exposing secrets of the Afghanistan and Iraq wars. Manning, who has served seven years in confinement, will be released in May.
Before the commutation was announced, WikiLeaks tweeted that Assange would "agree to US extradition despite clear unconstitutionality of DoJ case."
"We want to engage with the US case because it continues on forever," Assange explained on Tuesday. "It's better to engage with the US case, have a discussion with the DoJ [Department of Justice], what are you doing with this case, are you going to keep it going, am I going to have to stay in the embassy forever, or is there some way that you guys can drop it, or can we look at under what circumstances I would be extradited to the United States."
Aly argued, however, that what Assange wanted was to "leave the embassy if you could come to terms with them about your case, nothing really to do with Chelsea Manning."
Assange explained that Obama "wanting, I guess, to look tough, said that my offer had nothing to do with Chelsea Manning being granted clemency, so there's no quid pro quo."
"No, but on your side, you said that if Chelsea Manning was released you would leave, you would leave the embassy," Aly responded.
"I didn't say that," Assange replied. "I said that I would accept extradition to the United States," adding that he's "not a complete idiot."
"We had a major strategic victory in liberating Chelsea Manning, the most significant alleged whistleblower in the last 10 years — Edward Snowden says that he was inspired by Chelsea Manning — so look, I'm not an idiot."
"Saying I'm willing to accept extradition doesn't mean I'm saying that I'm willing to be a complete idiot and throw all my lawyers away and so on," Assange said. "No, we're going to have a discussion with the DoJ about what that looks like. The ball is in their court."
"I was willing to do anything possible to try and encourage Barack Obama to do the right thing and to give Chelsea Manning a clemency, which he did in the end for a variety of reasons," Assange explained. "Now, part of that encouragement is preventing Democrats who are still upset that we exposed what Hillary Clinton said behind the scenes during the election campaign."
READ MORE: Clinton is a cog for Goldman Sachs & the Saudis (JOHN PILGER EXCLUSIVE VIDEO & TRANSCRIPT)

Assange suggested the Democratic establishment supported pardoning Manning in part because it would paint the WikiLeaks editor as a liar.
"Let's look at it from their perspective," he said. "If we give Chelsea Manning clemency, what's the result? That seems like it's a favor to WikiLeaks. But we don't want to do WikiLeaks a favor because they really kicked us in the teeth during the election."
"But it's going to make life hard for Assange, because either he's going to get extradited to the United States or we're going to show he's a liar and both of those things are going to make life hard for Assange, and therefore it's okay to pardon Chelsea Manning, and that's what happened," he said.
Assange was also pressed on whether there was Russian involvement in the WikiLeaks release of Democratic National Committee emails or the emails of Hillary Clinton's campaign chair John Podesta.
"I can state clearly, and I have stated clearly, that our source is not a member of the Russian government," Assange said.
Assange is scheduled to host a number of video conferences in Australia in the coming months.
You can share this story on social media: